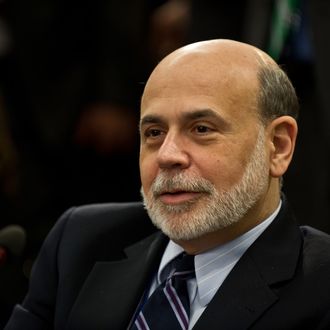 Ben Bernanke.
Photo: NICHOLAS KAMM/AFP/Getty Images
We already know that Bloomberg journalists used their access to data generated by the users of Bloomberg terminals — the $20,000-a-year market monitoring machines that are a fixture of financial services offices — to spy on JPMorgan, Goldman Sachs, and Alan Greenspan, both for scoops and to simply pass the time. So, it's not completely surprising to learn that some of them also looked at the terminal usage data of Federal Reserve Chairman Ben Bernanke and former secretary of Treasury Tim Geithner. CNBC reports:
The information appeared to concern general functions used by the officials and the frequency with which those functions — such as looking at a bond, equity markets or news — were accessed. The source said all Bloomberg journalists who knew of this capability of the terminal would have had access to the usage information of the officials. However, CNBC has no information that the data were either used by the employees for journalism or shared inappropriately.
When asked about the issue, a Bloomberg spokesman told CNBC, "What you are reporting is untrue," though he declined to cite specific inaccuracies. Bloomberg has since vowed to limit its writers' ability to view its customers usage information "in light a general heightened sensitivity to data access." Meanwhile, both the Federal Reserve and the Treasury Department are investigating the issue.