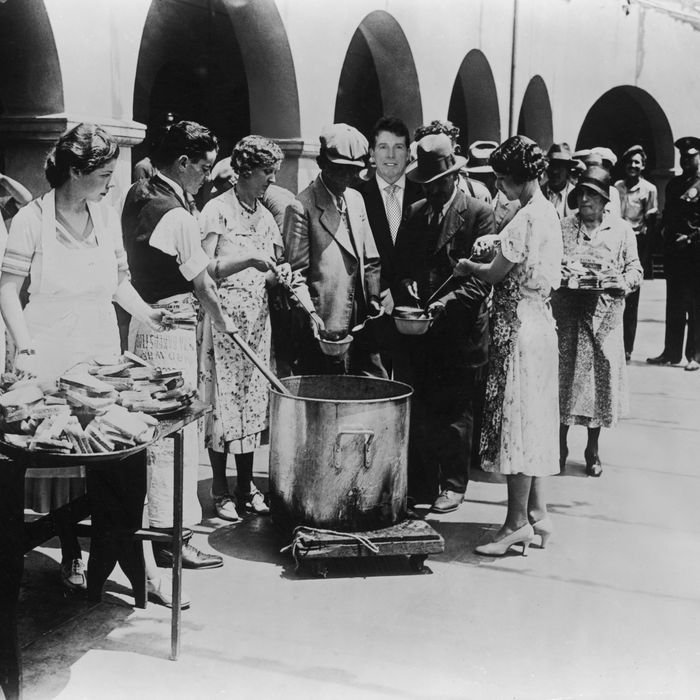 Can you spot Bob Diamond on this Depression-era bread line?
Photo: Photos by; American Stock/Getty Images, Chris Ratcliffe/Bloomberg via Getty Images
Andrew Ross Sorkin has a meaty profile of Bob Diamond, the former Barclays CEO who was ousted after the Libor-rigging scandal, in this week's Times magazine. Sorkin finds Diamond working out of a sparse office in the Seagram building, riding the subway like one of the Poors, and saying things like, "The only car I own, honestly, is an 11-year-old Jeep on Nantucket."
Diamond is clearly in the Warren Buffett-emulating phase of his image-rehab campaign. And while he doesn't come by folksiness as naturally as the Oracle of Omaha (among the funnier tidbits in the piece is that Diamond formed a "a Russian-sounding company" to buy a $37 million penthouse on Central Park, so nobody would know it was him), you can't blame the guy for trying.
We learn in the piece that Diamond has some really underminer-y friends:
When I asked one of his friends to explain how someone with Diamond's middle-class background could have missed so many warning signs of a public backlash, the friend cut me off. "You mean, How could he be so imperial and narcissistic?"
And also that his daughter Nell, after telling British politicians to "hold my dick" on Twitter, got a case of the guilties:
She immediately called her father. " 'Dad, I think I did something really bad. I think I'm in trouble,' " Diamond recalled her saying. He told her: "Sweetie, I love you. That's so nice. I think we're probably all in trouble."
I'm not convinced by the conspiracy theory at the core of the piece — that Diamond was set up by the Bank of England to take the fall for Liborgate. Even if, as Diamond claims, he was in the dark about the actual mechanics of how Libor worked, it's natural and correct for the buck to stop at the CEO's desk when disaster happens. Having your interest rate traders get caught promising each other bottles of Bollinger in exchange for help rigging the world's primary benchmark interest rate certainly qualifies as a disaster, no matter how many conversations you had with regulators.
So, let's split the difference and agree that Diamond probably deserved to lose his job, while also acknowledging that what happened at Barclays wasn't entirely his fault. And then let us take up a Kickstarter fund to get this man back on his feet. After all, if you can't buy a $37 million penthouse in peace, times have truly gotten tough.