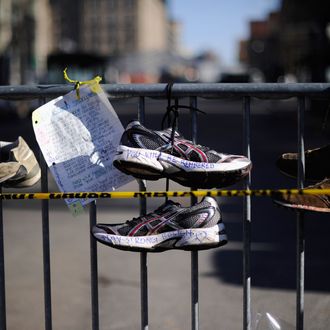 A makeshift memorial at the intersection of Newbury Street and Dartmouth Street, near the site of the bombings.
Photo: Kevork Djansezian/2013 Getty Images
The Tsarnaev brothers initially intended to strike Boston on the Fourth of July and considered suicide attacks, according to a new account of what Dzhokhar told investigators before he was read his Miranda rights. Ultimately they decided to use pressure-cooker bombs instead, and two law enforcement officials tell the New York Times that the brothers changed the date after they finished assembling the bombs earlier than expected. Dzhokhar described driving around the Boston area to scout out sites, and said they settled on the marathon's finish line just a day or two before Patriots' Day.
The bombs were reportedly assembled in Tamerlan's Cambridge apartment, casting more doubt on his wife Katherine Russell's claim that she knew nothing about the attack. Russell has been trying to distance herself from her husband and refused to claim his body earlier this week (on Thursday, a funeral home retained by the Tsarnaev family picked up his remains). Russell raised suspicions even further when she stopped cooperating with investigators this week, but two other law enforcement officials told the Times that her fingerprints and DNA don't match those found on the bomb fragments.
It still appears that the brothers were self-radicalized, but Dzhokhar said he and his brother had watched online videos of sermons by Anwar al-Awlaki, the American-born Al Qaeda preacher killed by a U.S. drone strike in September 2011. Rep. William Keating of Massachusetts said on Thursday that during his six month trip to Dagestan in 2012, Tamerlan met with militant Mahmoud Mansur Nidal, but there's no evidence that he joined any group or received training while abroad. Officials say the FBI is sending more agents to Russia as it continues to investigate the brothers' foreign contacts.
Had the Tsarnaevs waited until the Fourth of July, it's likely more people would have seen the attack live. CNN reports that it's unclear which specific event they were targeting, but the Boston Pops Fireworks Spectacular attracts roughly 500,000 spectators and is televised nationally.