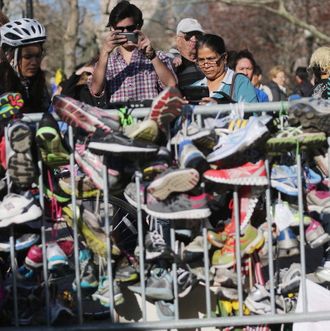 While it was far from the most tragic thing to arise from the situation, the Boston Marathon bombing meant that many participants weren't able to complete the race for which they'd worked so hard to qualify. Today in Boston, some of those people took the opportunity to finish what they started in April: OneRun and the Boston Athletic Association (BAA) gathered around 2,000 bombing victims and fellow runners to finally cross the finish line. "The opportunity to run down Boylston Street and to cross the finish line amid thousands of spectators is a significant part of the entire Boston Marathon experience," Tom Grilk, executive director of the BAA, told Reuters.
A similar effort is taking place over at the Indy 500 where Indianapolis Motor Speedway (IMS) COO Doug Boles said:
"The tragedy last month in Boston still resonates with everyone, so we wanted to give runners the chance to finish the race in front of thousands of fans who will appreciate their persistence and determination … Everyone will remember the victims while also celebrating the strength and indomitable spirit of these special competitors as they cross the hallowed Yard of Bricks."
IMS officials extended the invitation to the BAA and those in surrounding states and 35 additional runners from Indiana, Ohio, Illinois, Kentucky, and Michigan answered the call. They'll all gather to finish their race on Sunday.