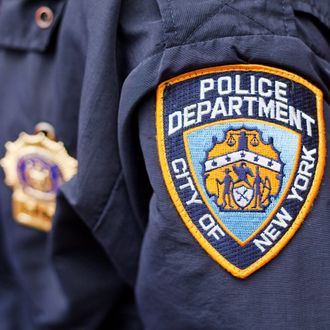 Everyone slacks off on the job now and then, but it's a bigger deal when an NYPD homicide detective does it. And it's a very big deal when such a homicide detective's corner-cutting measures include using a prostitute with a drug problem as a witness in multiple murder prosecutions and bribing prisoners with prostitutes in exchange for falsely incriminating suspects. That sort of extremely corrupt behavior was uncovered when the New York Times looked into the record of Louis Scarcella, a retired homicide detective who was known for handling some of Brooklyn's most infamous crimes throughout the  eighties and nineties. As a result of the Grey Lady's examination — and subsequent calls from defense lawyers, inmates, and prisoner advocates — Brooklyn D.A. Charles J. Hynes's office has now ordered a review of some 50 murder cases assigned Scarcella. Hynes is currently questioning both the officer's tactics and the legitimacy of his convictions.
The questions began when David Ranta was freed in March after being falsely imprisoned for 23 years for the murder of a rabbi. Prosecutors concluded that Ranta's conviction was the result of poor police work by Scarcella and a partner who, they later learned, "removed violent criminals from jail to let them smoke crack cocaine and visit prostitutes in exchange for incriminating Ranta." The two are even said to have told witnesses who to choose in a lineup.
In one 1987 murder trial, Scarcella's witness identification procedures were what one judge called "a classic illustration of what not to do." Basically, witnesses were shown one photo rather than a gallery and allowed to mingle together while making an identification of the accused. Scarcella even told them, "We have the guy who committed the murder," something he now admits would be wrong, had he done it. 
Then there's the matter of Teresa Gomez, the Trinidadian crack addict who Scarcella used as a key eyewitness in at least six cases, despite her testimonies being too belligerent to be admissible at times. While the former detective has only praise for Gomez's efforts, one of the people she testified against pointed out, "I don't know anyone who ever witnessed three, four or five homicides, unless you were doing them."
Speaking on behalf of the Conviction Integrity Unit, John O'Mara insisted that the goal of the entire investigation is to "correct injustice and not 'look for blame.'" Meanwhile, Scarcella reacted to the charges with what sounded what at least sounded like shock: "Wow … Let them look at my convictions. I will help them if they need me. I don't know what else to say. I expect he will find nothing." It seems like he might want to manage his expectations.