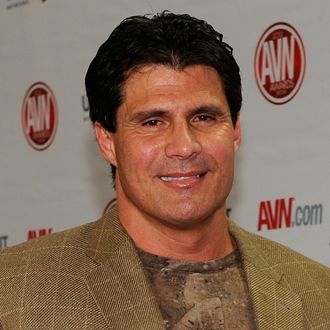 Jose Canseco has had a pretty entertaining run on Twitter this year, what with his looney Russian meteorite theories and tweeting his way to an invitation to the White House Correspondents Dinner. He should have left it there. On Wednesday, Canseco's always busy, sometimes ranty Twitter stream became a place for him to name a woman he says accused him of rape, and to share her phone number and work address. Not okay. Police haven't arrested Canseco, but they have identified him as a "person of interest." But the ball player appears to be pre-emptively shaming his accuser, and violating at least one of Twitter's terms of service in the process.
The best account of Canseco's unraveling comes from The Atlantic Wire, which catalogued the former ball player's initial tweets, in which he claimed to have been "charged with rape" by a woman he named (that's not how it works, by the way: police and prosecutors charge, individuals accuse). It was the first public mention of the accusation. Then, later in the day, Canseco posted what was apparently a photo of the woman, as well as the address of the gym where she works and her phone number, asking the press to call her and see if she would take a lie-detector test.
Most media organizations have a policy of not naming accusers in sex crimes, so as not to discourage victims from coming forward. As The Wire's Alexander Abad-Santos points out, Twitter's terms of service prohibit sharing people's "private and confidential information," including their address. That may be a moot point, though, as those tweets have been taken down.
But Canseco didn't scrub his account of all references to his apparent accuser. At the time of this writing, one tweet still names her, though it doesn't say why: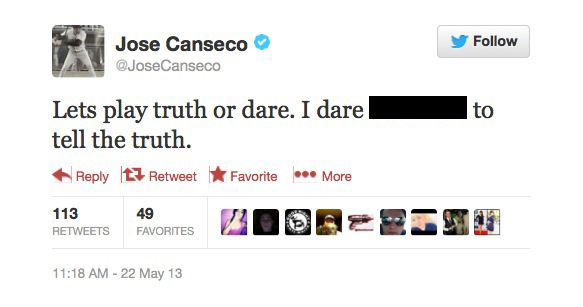 And another claims, oddly, that he doesn't delete tweets: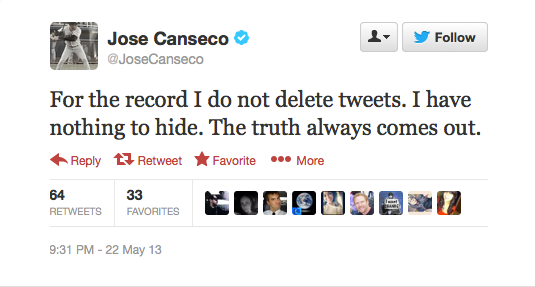 So far, the public scandal he alone created has earned Canseco ire on social media, but it hasn't hindered his movements or resulted in any kind of criminal charge — at least not yet. According to Canseco's Twitter and tweets from the unaffiliated United League baseball team the Fort Worth Cats, Canseco is in Texas right now, getting ready to play with the team. For his own good, and that of the people around him, he should probably stick to baseball cameos and leave Twitter alone for a while.