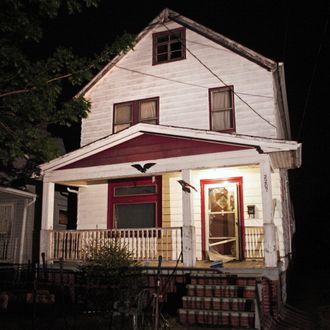 Ariel Castro, the 52-year-old former school bus driver who owns the Cleveland house from which three women were rescued a decade after their abductions, has been charged with kidnapping and rape. His first court appearance is set for Thursday as police try to determine whether he fathered the little girl victim Amanda Berry brought out of the house. But Castro's two brothers Onil Castro, 50, and Pedro Castro, 54, who were arrested with him, won't face any charges as police said there was no evidence they knew about the alleged abductions of Berry, Gina DeJesus, and Michelle Knight. "Ariel kept everyone at a distance," Deputy Police Chief Ed Tomba told reporters at a press conference. Now that the hideous details of his life and the girls' captivity are coming to light, we can see why.
Castro "marked the anniversaries of the kidnappings by serving dinner and a cake," a cousin of DeJesus told the New York Times. "He would celebrate their abduction day as their new birthday," the cousin

 

said.
While Berry is thought to have given birth to a child, now 6 years old, Knight told police she had been impregnated five times, but did not carry any to term because Castro "starved her for at least two weeks, then he repeatedly punched her in the stomach until she miscarried," according to a police report quoted by

 

WKYC

.

WKYC

also reports that Knight was tasked with delivering Berry's baby in an inflatable swimming pool, and that Castro told Knight he would kill her if the baby died. After the baby stopped breathing during the birth, Knight performed mouth-to-mouth resuscitation on her, probably saving both their

 

lives.
While Tomba said at a news conference the women "

don't believe that they've been outside that home for the last 10 years respectively

," the report cited by

WKYC

said that "if they were allowed outside, it was only in the backyard and 'they had to wear wigs and sunglasses and keep their heads down.'

 

"
Castro apparently visited a cousin in Parma, Ohio, "with a child he introduced as his granddaughter," the cousin, Nelson Martinez, told the Times. "She looked healthy and happy and looked as though she liked being with her 'granddaddy,'" Martinez

 

said.
The late mother of Castro's children, Grimalda Figueroa, accused him of beating her and threatening to kill her and their daughters. In one complaint she told police he "frequently abducts daughters and keeps them from mother/petitioner/ legal custodian," according to

CBS

 

News.
The women "

were not in one room, but they did know each other and they did know each other was there

," Tomba said, according to Reuters. The police report cited by

WKYC

said the child, named Jocelyn, "did not know the real names of Knight or DeJesus in case Jocelyn spoke their names in public when Castro took her out of the

 

house."
Castro was fired in September after leaving his bus unattended — his third disciplinary infraction,

CBS

reports. The Times adds that his house was in

 

foreclosure.
The cousin, Martinez, told the Times about a visit to Castro's house before the women went missing. He said Castro was "a hoarder" who had "built himself a shack that looked like a cardboard tent with blankets in the living room," in which he slept to save money on

 

heat.

"

Neighbors said that over the years, Castro took part in the search for one of the women, Gina DeJesus, helped pass out fliers, performed music at a fundraiser for her and attended a candlelight vigil, at which he comforted her mother," according to the Associated

 

Press.
Berry took the first opportunity she could to escape, telling police Castro had forgotten to lock the "big inside door" when he went on a McDonald's run,

WKYC

reports. But the storm door was still locked, and she was afraid to break through it because "she thought Ariel (Castro) was testing her." Luckily, neighbors were willing to help

 

her.
To end on a less horrifying note: Berry and DeJesus both returned to their families' homes on Wednesday, while Knight remains in a Cleveland hospital.
Update: There's more. In what may have been a suicide note, written years ago, Castro reportedly confessed to the crimes and wrote, "I am a sexual predator." About the women, he wrote, "I don't know why I kept looking for another. I already had 2 in my possession." But he also shifted blame: "They are here against their will because they made a mistake of getting in a car with a total stranger."
Update II: Castro was arraigned Thursday morning on the charges of kidnapping and rape. A judge set his bond at $2 million for each case.