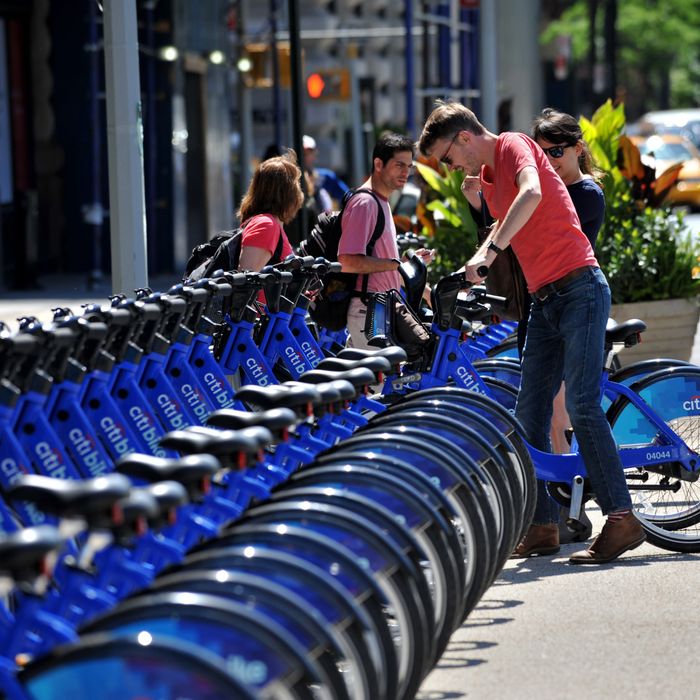 A couple get their Citi Bike bicycles from a station near Union Square as the bike sharing system is launched May 27, 2013 in New York. About 330 stations in Manhattan and Brooklyn will have thousands of bicycles for rent.
Photo: Stan Honda/AFP/Getty Images
Since Monday, New Yorkers who purchased a $95 yearly Citibike membership have been eagerly testing out the new bike-share system, and sharing their experiences on Twitter, in blog posts, and in whiny interviews with the New York Post. Here's what everyone seems to like about Citibike so far, and what they don't like. 
Like: Docking is easy.
Gothamist's Jake Dobkin writes:
Returning the bike is really easy: you just pull up to an empty slot at a station, shove the front part in, and wait until the light turns green. You can tug it if you're worried it hasn't stuck. I checked in and out of three stations and by the second time, I could get in or out in just a few seconds.
Dislike: Docking is hard.
Gene Chan tells the Post he was late to work because of docking difficulties:
"I spent like 20 minutes trying to get my bike back inside the station," he told The Post. "I didn't want to be late for work but I didn't want to be charged over $1,000 if the bike was stolen with my account info still on it.

"It was really frustrating! This was my first time using this bike and I hoped it wouldn't be this difficult.
Amanda Holpuch injured herself trying to dock:
Like: The app is awesome.
Dislike: The app sucks.
Amber Sexton has many problems with the app:
The worst part of the program so far is the app, which is a shame because it's a crucial piece. It really needs tweaks because it's an essential tool for using the program. A temporary problem is that it lists all the kiosks as inactive at this point …. At any rate, the app shows how many bikes the stations have but don't indicate things like "full" and I did arrive at a full kiosk. The app also has a timer which is less than wonderful. First of all you need to get used to that it doesn't work like the iPhone timer which counts down to zero time left and then plays whatever alarm you choose. The Citibike app counts up to the time limit. This is a good idea actually because it lets you be able to learn how long your regular trips are going to take, the time is actually saved when you stop it until you reset it. The real bad thing is the timer goes off and barely makes a sound. It's like a Twitter alert. It's not like an iPhone timer which goes off until you turn it off and vibrates as well. This alert really can't be heard in your bag, or in traffic, though the next time you check your phone there's a 'helpful" visual alert that your time is up …. The worst error is that I got home and now the map won't show me any stations at all, (though in Greenpoint I'm not near one until the second stage rollout.) I had this happen on the website once as well and it's really frustrating. Clicking on the one station I put into favorites takes me to the middle of some body of water, or whatever an entirely filled screen of blue symbolizes. 
Dislike: Other various technical difficulties.
The Post reports:
Yong Zhu, 40, ran into trouble trying to get a second bike in Greenwich Village after returning one he'd used earlier, worrying he'd get slapped with a steep fine.

"When I put my card in to get another bike, it gave me red," he fumed about the display on the Citibank-sponsored bike racks, which is supposed to flash a green light when it's been used properly. "I tried another rack, and it gave me red. I can't get any out. Now I'm afraid that it is going to give me a $1,000 fine!"
And the Post, again:
Other exasperated riders complained that their special Citi Bike key — which allows them to pick up one of 6,000 three-speed cruisers at more than 300 locations — wouldn't function.

"It's not working!" an exasperated Barbara Becker, 45, said in Union Square. "I've tried it on about 30 bikes at 10 different kiosks and it doesn't work. They said when I called yesterday that a lot of people are experiencing this problem."
Like: Riding a Citibike makes you really interesting for once.
Atlantic's Alexander Nazaryan reports:
Within minutes of getting on the intentionally clunky bike, I was getting plaudits and eager questions from New Yorkers whenever I stopped at an intersection (and a helpful sticker between the handlebars reminds riders to follow all traffic rules): Hey, where do you get one of these? How much do they cost? I tallied two thumbs-up within the first five minutes of riding through the Fort Greene section of Brooklyn. That's two more thumbs-up than the average New Yorker gets in a lifetime.
Dislike: It doesn't stop you from going the wrong way down a one-way street.
Dislike: No Chinese instructions.
As the Chinatown Partnership Local Development Corporation points out:
Would've been nice to include Chinese on all Chinatown kiosks so ppl in the nabe understood all that's written, especially about June 2nd being the date daily use is available.
Dislike: One station is not enough stations for Park Slope.
"Park Slope's bike share demand has been emptying out its only station," reports Park Slope Stoop. 
Dislike: It's extremely difficult to ride uphill.
Atlantic's Nazaryan again:
After puttering up the on-ramp of the Brooklyn Bridge, I decided that this was not the sort of bike one used for the Alpine section of the Tour de France. Others will surely come to the same conclusion, which is precisely the point.
Gothamist's Dobkin again:
Hills will be a challenge. When I took it up from DUMBO to the Heights, it was difficult. I would consider doing a bridge only if you're in top shape and a masochist.
Dislike: Will kill many babies.
Like: It's the fastest way to get from A to B in certain situations.
The New York Times found that Citibike was faster than walking or taking the subway when traveling between Penn Station and Grand Central, and faster than the subway or a pedicab between MoMA and the Empire State Building. (On longer trips, the subway or a cab was faster.)
Dislike: They are slow and bulky.
Felix Salmon writes:
On my regular bike, I can generally be pretty certain that I will get from A to B faster than any other form of transport. On a CitiBike, I can't. My regular bike is like a car, but faster and nimbler; riding a CitiBike is more like being a faster pedestrian. It's not for people in a hurry, although there are still lots of trips where it's going to end up faster than a taxi or public transport.
The Daily News's Simon Weichselbaum reports:
This isn't a bike. It's an SUV. The seat is wide and spongy. The handlebars are extra wide. The tires are fat …. But exerting all my energy got me to about 7 mph. Joggers go faster than that. Yawn. CitiBikes are too slow to survive a New York minute.
AM New York's Georgia Kral:
The bike is a bit clunky, and those of us used to biking will inevitably get frustrated with how slow they go, but the ride is smooth and enjoyable.