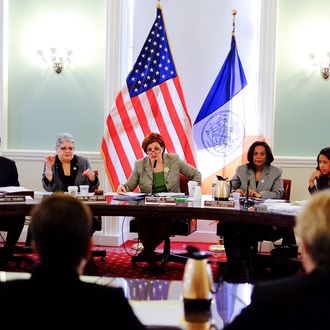 Photo: Official NYC Council Photo by William Alatriste
Here's a bit of good news for New Yorkers who white-water-rafted to work today: The City Council, in a 45–3 vote, has passed the paid sick leave bill that has been snailing its way through the legislature for the past two years or so. The measure would require businesses with twenty or more employees on staff to provide at least five guaranteed paid sick days; in 2015, that bar will drop to companies with fifteen employees or more. As a result, one million New Yorkers without any paid sick leave benefits whatsoever will soon feel guiltless about calling in sick (five times). That emotional distance will go into effect April 1, 2014. 
Mayor Bloomberg has threatened to veto the bill, arguing that it would "hurt job creation and stifle job creation," but the Council likely has enough votes to override. If passed, New York City will become the most populous area in America with this kind of bill on record. And, somehow, it only took an arm, a leg, and a mayoral race to finally get the vote done.
For a while, Speaker Christine C. Quinn refused to back the paid sick leave measure. Without her, the bill was D.O.A. It was a piece of legislation widely supported by her progressive base and championed by the unions that make up the Democratic sect in New York City — in other words, the voters whom she needs to put her in firing range of the City Hall throne. But Quinn favored her business ties in this area, dismissing the bill for years because she felt that it would place a significant financial burden on employers throughout the five boroughs. This was a stance she shared with her boss.
Since she helped hand him a third term, though, Quinn has been chastised as the Bloomberg protégée and, for Democratic voters, that could prove to be a liability. As the mayoral race has switched to overdrive the past few months, the Speaker has gone to great lengths to cut her campaign's umbilical cord from the current administration. This paid sick leave bill is a perfect example: A few weeks ago, with labor unions breathing down her neck, Quinn folded and negotiated a deal. The delayed-until-2015 exemption for businesses with fifteen employees or more is her office's doing. By doing so, she hoped to snag an endorsement from 32BJ, a major union vote, while maintaining some support from the business community.
"Today, we have an agreement in principle on a bill that will provide New Yorkers with access to paid sick days and, at the same time, exempt small businesses that are least able to provide this benefit," Quinn said in a statement. Call her a flip-flopper. Call her a sellout. Call her a political deviant. Or don't … because you'll be at home, getting paid to watch daytime television.