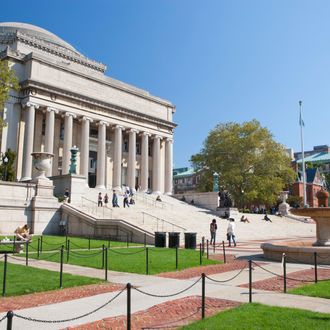 Photo: Andria Patino/Corbis
Four years ago, a 19-year-old by the name of Judah Blumenthal went on a bit of a vandalism spree inside Columbia University's St. Paul's Chapel. He burned the altar with a cigarette, knocked over a large gold cross, and threw Holy Water about, according to the New York Post. For the trouble he caused, the Manhattan Supreme Court decided Thursday that Blumenthal will serve no jail time nor will he have a criminal record following the incident. Instead, Justice Bonnie Wittner deemed that a $6,000 restitution, 100 hours of community service, and two years of mental health treatment would suffice as punishment for the now-25-year-old.
That's because what's been called a "long-negotiated deal" included Blumenthal's lawyer, Preston Leschins, explaining that he was "so sick at the time, he had no idea what he was doing." Though convincing prosecutors was no easy feat, Leschins insists "what happened here was due to a medical condition." So let's expect that defense to get a lot of play in the coming months.
Update: This post has been updated to correct the name of the St. Paul Chapel, which was previously misreported as St. Paul's Church.