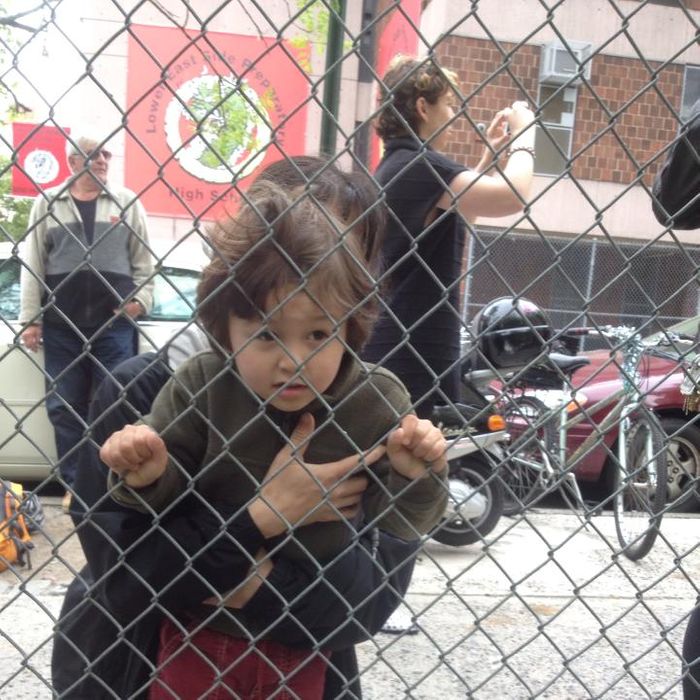 In what seems like a subplot straight out of our favorite romcom, the New York Times reported that a company that owns the center lot in the Children's Magical Garden de Carmen Rubio on the Lower East Side sent private security guards, workers, and a photographer to erect a metal fence around a 100 by 25 foot lot (roughly 2,500 square feet) in the middle of the garden today.
You see, while the city owns two thirds of the land that make up the garden, Long Island-based Norfolk Street Development controls the remaining bit. Their workers told the Times that the fence was going up "to satisfy a request from an insurance company." No further details were given but Kate Temple-West, one of the gardeners there, added that she and fellow gardeners had already been working with local city councilwoman Margaret Chin to "arrange a land swap with the owner of the third lot, in an effort to make the garden permanent."
As the script was bound to go, community members were none too happy about the change, expressing their anger and disappointment via the garden's Facebook group on Thursday. According to a post by Temple-West there, the group will be out in the garden sharing their grievances from 2:00 to 4:00 p.m. on Thursday. And if we're lucky, Hugh Grant will show up to make the big gesture then too.