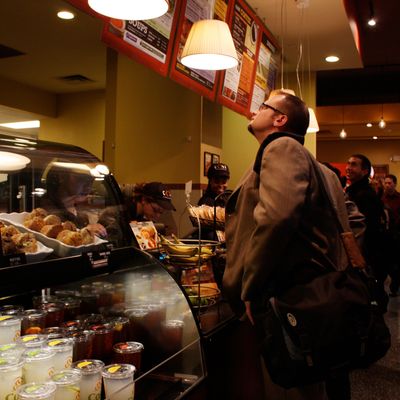 Photo: Sarah Ross / flickr
Cosi, the Illinois-based restaurant chain famous for its flatbread sandwiches and free WiFi, is having a very bad day. Its stock is down nearly 15 percent after yesterday's quarterly earnings report, in which it reported a $2.7 million loss and admitted, in the CEO's words, that "our current financial performance may not allow us either the time or resources to build our brand."
Cosi has never been a financial heavyweight. (Amazingly, it has posted only one quarterly profit in its entire eleven-year history as a public company.) But it really seems to be hitting a wall now. On the earnings call, the company announced it was planning to close at least five of its roughly 125 restaurants, and likely many more. Cosi still has about $12 million in cash, but analysts are downgrading the stock, and it looks like only a matter of time before the company's salad days are over.

Cosi's decline is almost certainly a function of poor management, but there are some other factors at work. Biggest among these is that the fast-food restaurant industry has moved up the price ladder, into the fast-casual niche that used to be occupied by restaurants like Cosi, Chipotle, and Panera Bread. Chains like McDonalds and Taco Bell now have healthier, more-gourmet items on their menus, and you can now get Cosi-style flatbread sandwiches at any Starbucks or Subway.
As you can see by the chart above, Chipotle and Panera have both held off the fast-food industry's upmarket encroach by creating their own new products and marketing themselves as the healthy alternative. But Cosi hasn't. And soon it may be the first fast-casual chain to be beaten on quality and price by larger rivals, though it probably won't be the last.