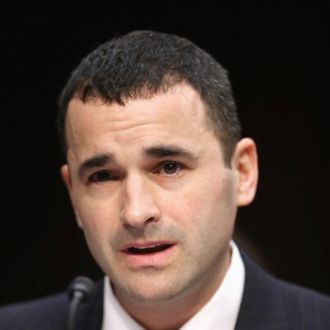 Until Monday, Daniel Werfel worked at the Office of Management and Budget, where, for the last six months, he did one of the nation's most unpleasant jobs: implementing the spending cuts known as the sequester. Now, thanks to an appointment by President Obama, he'll move on to an even more terrible-sounding assignment: acting director of the Internal Revenue Service, an agency that Congress plans to pick apart in months of hearings, starting Friday. And to make things worse for the beleaguered bureaucrat, the IRS executive under him, Joseph Grant, who headed the agency's tax exempt and government entities division under recently ousted acting director Steven Miller, has announced he will retire on June 3.
Grant was a top deputy to Miller, and joined the agency in 2005. "It was not immediately clear whether Grant's retirement was related to the controversy over tea party targeting by the IRS," the AP reports. But it sure is some kind of timing. Whether he was forced out on Miller's heels or simply split when he realized the job would be hell for quite a while, the departure leaves the new guy short one repository of institutional memory.
The New York Times lays out Werfel's near future: "Republicans — and some Democrats — have made clear that they intend to hold numerous hearings over the next several months, and it will be Mr. Werfel's job to comply with their demands even as he keeps the agency running." Treasury Secretary Jacob Lew said in a statement that "Danny has a strong record of raising his hand for — and excelling at — tough management assignments," so this is definitely a good fit.