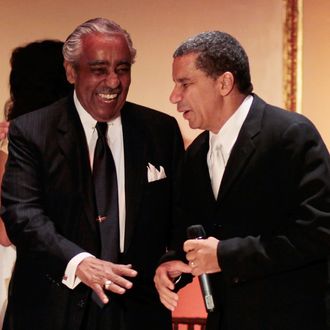 Paterson and the man he COULD replace, maybe.
Photo: Chris Hondros/Getty Images
Asked by the Post's Fred Dicker today whether he might run for Charlie Rangel's Harlem congressional seat — the 82-year-old Rangel has reportedly said privately that he won't seek reelection in 2014 — former governor David Paterson did not totally deny the possibility, even if he can "almost" rule it out. "But then I watch the political landscape these days and I just feel that people are not talking about some of the issues that are really affecting people," Paterson said.
At the same time, though, Paterson isn't sure he's ready to surrender a life of not being blamed for fucking up constantly. "When I wake up in the morning and everything is not my fault," Paterson said, self-deprecatingly, "it's really a great feeling before I get out of bed each day."
The good news is that, even for Paterson, there's only so much a single congressman can screw up. Or improve. Mostly, you're just useless.