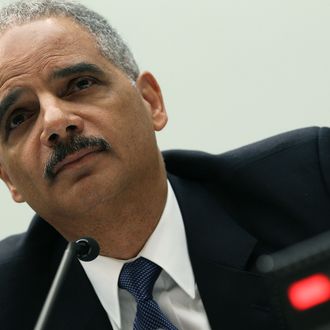 Photo: Mark Wilson/2012 Getty Images
As the "scandal" continues to unfold surrounding the Justice Department's acquisition of phone records from the Associated Press and its journalists, the two organizations have engaged in a very serious debate of "no, you started it." According to the New York Times, Attorney General Eric Holder said today that the only reason the Department even looked into the AP's phone records is because of a story published on May 7 of last year, as expected. He took it one step further, though, when he said the article "put the American people at risk, and that is not hyperbole."
Holder's deputy James Cole, the one who authorized the investigation, furthered the it's-not-that-big-a-deal defense in a letter he sent to the newswire insisting: "the subpoenas were limited in both time and scope," "limited to a reasonable period of time," "and did not seek the content of any calls."
Following the Department's "prompt response," Gary Pruitt, the AP's president and chief executive, posted a three-pronged take-down on their blog, taking issue with the overbroadness of the investigation, that they were not looped in in advance of the subpoenas, and the simple fact that no one knows what the Department was actually investigating. In Pruitt's own words:
"More than 100 journalists work in the locations served by those telephones."

"Rather than talk to us in advance, they seized these phone records in secret, saying that notifying us would compromise their investigation."

"How would narrowing the scope of the phone records have compromised their investigation?"

"They say this secrecy is important for national security. It is always difficult to respond to that, particularly since they still haven't told us specifically what they are investigating."
Adding fuel to the fire, Pruitt said the wire service was eager to publish news of a foiled terrorist plot by Al Qaeda's branch in Yemen in part because it refuted White House claims that there had been no Al Qaeda plots around the first anniversary of the killing of Osama bin Laden. He also held strong to the AP's journalistic integrity saying the story was held until sources assured his reporters that "the national security concerns had passed."
"The White House had said there was no credible threat to the American people in May of 2012. The AP story suggested otherwise, and we felt that was important information and the public deserved to know it."
The ball's in Holder's court now but while we wait for another bit of blame to come flying, at least we already know what Jay Carney's going to say tomorrow.