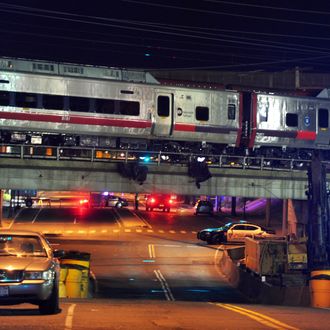 Federal investigators are looking into what made a New Haven-bound Metro-North train jump the tracks near Bridgeport, Connecticut at the height of Friday's rush hour, crashing into a westbound train and injuring at least 70 people, three of them critically. "I thought there was a bombing," 23-year-old passaenger Natalie Sepulveda told the New York Times. "I smelled smoke and looked outside the window and saw a whole bunch of dust, and I grabbed my son." Fortunately, nobody was killed in the accident, and one of the critical victims has been upgraded to fair condition, CNN reports. However, Connecticut Senator Richard Blumenthal told reporters that the damage caused by the accident is "absolutely staggering," with debris covering a 200-yard area around the site. "Ribbons of the sides of cars are torn away like ribbons of cloth," Blumnethal said. "Tons of metal tossed around like toy things. The insides of cars are shattered."
The cause of the 6:10 p.m. derailment remains something of a mystery. National Transportation Safety Board member Earl Weener said investigators "will look at a number of things, including the trains' braking performance, wheel and track conditions, and speed and other information from data recorders." Also unclear: exactly when the 30-mile stretch of track between New Haven and South Norwalk will reopen. The MTA says that the wreck happened at a spot where two of four tracks were already out of service, "suggesting that service disruptions could persist." And the AP reports that Amtrak, which uses the same rails, has suspended its service between New York and New Haven "indefinitely." "You should begin making plans … for alternate travel," said Connecticut Governor Dannel Malloy, according to the Hartford Courant. "I think this is going to be with us for a number of days." He estimated that things could be fixed by Monday at the very earliest.

This post has been updated throughout.