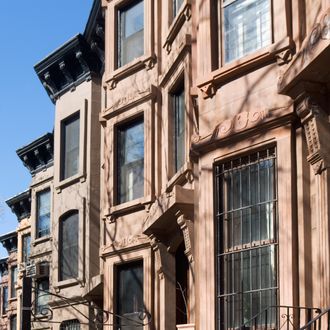 Photo: Fotog/Tetra Images/Corbis
When Kalmon Dolgin Affiliates bought a 15,000-square-foot warehouse at 18-28 Troutman Street, the real estate brokers knew the property wasn't technically in Brooklyn, let alone in East Williamsburg, but the listing said otherwise. The company signed three industrial property leases in the warehouse, which now belong to an athletic company and two artists. Oh, and spoiler alert: The address is actually located in Ridgewood, Queens, the neighborhood just north of Bushwick's borough line. 
But who cares? "It's all in the same triangle … I mean officially it's in Ridgewood, but the location is the L train to Jefferson, people call that East Williamsburg," broker Howard Darsi told DNAinfo. "East Williamsburg and Ridgewood are generic neighborhoods." [Italics ours.]
Of course, it's false marketing. And yes, of course, it's unfair and unjust to the unwitting buyer. But this is New York City! The Big Apple! Gotham! The greatest city in the world, where $850 a month can get you a musty closet fit for Harry Potter or Oliver Twist. Yet the listing you just read said it was a "LUX SNUG DOUBLE, PERFECT FOR QUEEN SIZES." The disparity between reality and Craigslist is basically night and day. If you take anything at face value in the New York City apartment-search hunt, you've lost the race before it even started.
And this disillusion is most apparent in a listing's location. At this point in the modern history of Brooklyn, the neighborhood given should be read as "one neighborhood over." Follow the logic here. Anything listed in Williamsburg is in East Williamsburg. East Williamsburg is Bushwick. Bushwick is Bed-Stuy. Bed-Stuy is Broadway Triangle. "South Prospect Park" means Lefferts Gardens or Flatbush. And so on and so forth.
So what Kalmon Dolgin Affiliates did here isn't new at all — it was just incorrect (and a borough off). But, then again, everybody else involved in the New York City real estate market is getting it wrong, too. "You can change [our announcement] to say it's in Ridgewood if you'd rather," Darsi said. Eh, no point.