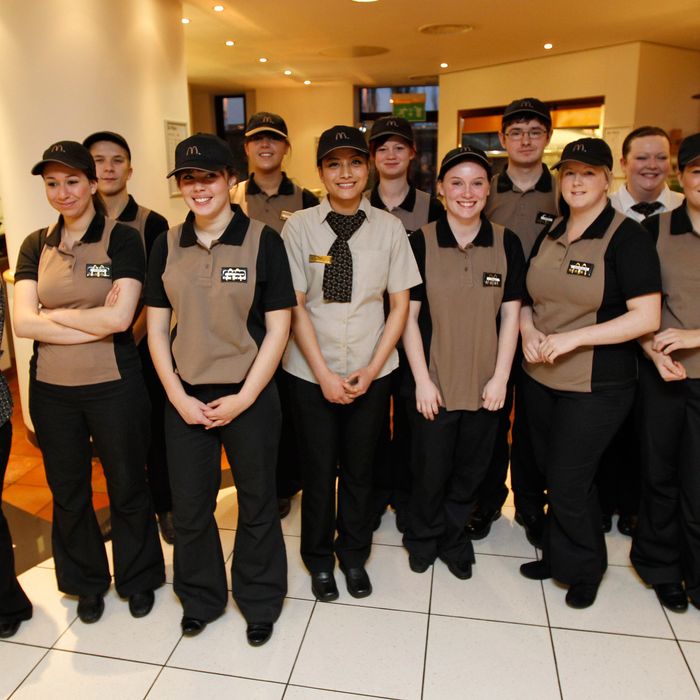 McDonald's staff pose for a photo.
Photo: Lefteris Pitarakis - WPA Pool/Getty Images
We're eating and drinking our way back to prosperity.
That's one of the messages in today's jobs report, anyway, which was unambiguously good in many ways. 165,000 new jobs were created in April, with 38,000 jobs added in "food services and drinking places" and 73,000 jobs added in "professional and business services." Those are good, non-squishy categories, and they generally serve as reliable indicators that companies are getting over the "uncertainty" problems they claimed last year and hiring to fill open slots again.
The headline unemployment rate also dipped down to 7.5 percent, its lowest level since 2008. But the bigger deal, in today's report, are the revisions.
Both February's and March's jobs numbers were revised upward, for a total of 114,000 additional jobs that weren't counted the first time around. Those numbers flatten out the overall trend line, and make this look like what it is: a solid, sustained recovery. It's no longer the "low and slow" recovery I once described, but it's not a robust, forceful recovery, either. Participation remains at historical lows, and there are still 4.4 million long-term unemployed people — who have little or no chance of getting back into the labor force at anything close to their previous wage levels, given the way employers tend to pass over them.
Those are long-term worries, though. Two things about today's jobs report, in particular, concern me.
One is that it's going to be tempting, given how good the numbers look today, to write off sequestration as a non-issue. It's a testament to the fundamentals of the economy that even our bone-headed fiscal policy can't slow the recovery, but the numbers could be improving much faster if sequestration weren't holding them back. It's still an inexplicably stupid program, and it still needs to be fixed.
The second worry is that, with the data looking so good, the Fed might raise interest rates and stop stimulating the economy sooner than we want it to. As Jeoff Hall notes, at today's three-month pace, the unemployment rate will hit the Fed's 6.5 percent QE threshold as soon as November. That's bad news if you believe, as I do, that stimulative measures need to apply sustained upward pressure to the economy for years, not months.
But worrying that the recovery is too fast is a good problem to have. These are positive numbers; let's be thankful for that today, and worry about the long-term problems later.