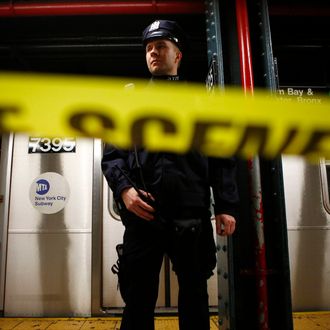 Runaway NYPD prisoners are not as rare as one might imagine, if the first half of this year is any indication. This morning, yet another wily suspect got away from police in Harlem and headed for the labyrinth of the subway system, affecting A, B, C, and D train lines from 168th Street down to Brooklyn, and setting off a search featuring helicopters. The man, a five-foot-six white male in a yellow sweatshirt (although probably not anymore), was arrested for grand larceny before slipping out of a cop car. "It's not clear how the escapee managed to get free," CBS reports, but a similar situation last year ended with the runner getting caught popping out of a manhole — "very Pelham 123."
Update: The slippery accused criminal has been identified as 17-year-old Vincens Vuktilaj, who is wanted in connection with at least five chain-snatchings, including the below theft of a 93-year-old woman's necklace in the Bronx:
Update II: They got him (again).