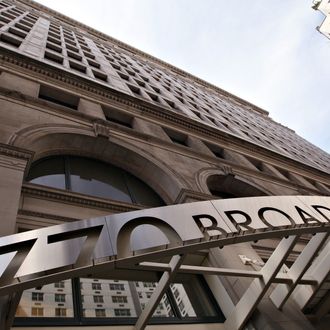 Outside 770 Broadway, the future home of AOL, in New York, U.S., on Thursday, April 3, 2008. AOL's move to New York this month may signal the last chance for Time Warner Inc.'s Internet division to convince investors it has a future in advertising.
Photo: DANIEL ACKER/Bloomberg News
With Team Zuckerberg continuing to increase its previously advertising- and sales-focused New York presence with additional programmers and engineers, the company has likely outgrown its 150,000-square-foot office at 335 Madison Avenue in midtown. The solution, according to Crain's, might be at 770 Broadway: Facebook is reportedly looking to take over the combined 160,000-square-feet of the seventh and eighth floors of the building, which is already home to AOL. We can only hope for some nerd dance-offs.