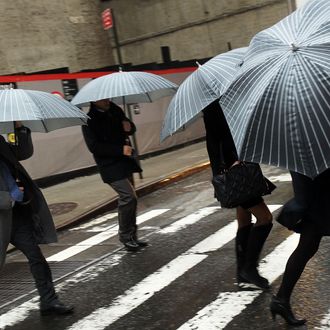 Photo: Spencer Platt/Getty Images
Certain New Yorkers whom the city loves the most woke up this morning to a flash-flood warning on their phones, delivered via the emergency alert system. The rest of us had to check the Internet, turn on the televsision/radio, or look out the window to realize it is disgusting out there, with wetness affecting the tristate area. The National Weather Service issued a warning covering Manhattan, Staten Island, Hudson County, and Kings County through 9:15 a.m. In its typically alarmist all caps: "DO NOT DRIVE YOUR VEHICLE INTO AREAS WHERE THE WATER COVERS THE ROADWAY. THE WATER DEPTH MAY BE TOO GREAT TO ALLOW YOUR CAR TO CROSS SAFELY. MOVE TO HIGHER GROUND."
At least one Brooklyn café is surrounded:
Plus Gowanus, as usual:
And the Today show has been hit:
But overall, we should be okay, save for minor inconveniences like the morning commute (i.e. where's my umbrella?) and having the same office conversation (i.e. where's your umbrella?) half a dozen times.