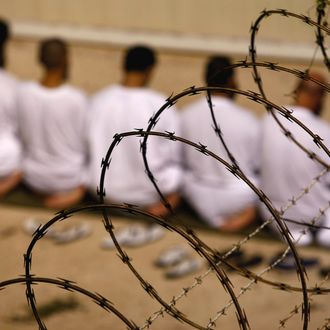 Photo: John Moore/2009 Getty Images
Every week, New York Magazine writer-at-large Frank Rich talks with contributor Eric Benson about the biggest stories in politics and culture. This week: President Obama re-commits to closing Gitmo, Mayor Bloomberg disses the Times, and Jason Collins comes out.
President Obama announced yesterday that he was recommitting himself to closing the Guantánamo Bay prison. Of the 166 inmates, 100 are now on a hunger strike and 21 of those are being force-fed to keep them alive. Is there any reason to believe Obama will make good on his pledge five years after he first made it? 
Obama's inability to redeem his 2008 campaign promise to close Gitmo is not all his fault: Congress imposed roadblocks, including a prohibition on giving the prisoners civilian trials. But it is a real failure of presidential leadership even so, given Obama's many missed opportunities, including his weirdly passive refusal to be proactive in dealing with the 86 inmates who've been cleared by our own intelligence agencies for transfer out. It's hard to see how he can let the status quo, or anything like it, stand now. This pointless facility has long been a blight on our national security; its mockery of our country's ostensible humanitarian and legal principles serves as a rallying cry for anti-American rage throughout the world. The notion of American doctors force-feeding prisoners who want to kill themselves is a further danger to the nation's interests even leaving aside the moral calamity. And Obama has the political clout to take action: Though his approval ratings are lately lackluster (at 47 percent), a new Times-CBS News poll shows that 56 percent of voters approve of his handling of terrorism. (The same poll shows that only 24 percent want America to intervene in Syria.) For all the roseate nostalgia that greeted the opening of the Bush Presidential Library last week, we are no longer in Bush and Cheney's America. As far as Guantánamo goes, Obama can ignore the neo-con dead-enders of the McCain-Graham school and start using the executive powers he has weirdly neglected so far; he can lobby Congress on the rest. He's in a race against time, and staying pat, or settling for the noble rhetoric he provided yesterday, are not options. "All of us should reflect on why exactly are we doing this," he said. "Why are we doing this?" Well, hello — it's past time for the president to end his own reflection and answer the damn question. 
In a speech yesterday, Mayor Bloomberg lashed out at the New York Times, accusing the paper of hypocrisy for ignoring the murder of a 17-year-old African-American man while criticizing the city's stop-and-frisk policies for being based on race. What did you make of Bloomberg's jab? 
It's no secret that Bloomberg loathes the Times, arguably the only powerful critic he has as his Mayoralty runs down. His animus derives not just from the paper's (correct) criticism of stop-and-frisk abuses but also from all the other issues that have drawn (generally correct) fire, including his brazen workaround of term limits. For him to cherry-pick one murder not covered by the paper and somehow equate that with editorials about stop-and-frisk and then somehow gin this up into an accusation that the Times is racist is the kind of bluster and sloppy thinking we expect from Donald Trump. Bloomberg couldn't leave office a moment too soon; his increasingly arrogant and tempestuous behavior threatens to overshadow all the good he did as mayor of New York. 
Veteran NBA center Jason Collins declared that he was gay in a first-person piece for Sports Illustrated published on Monday. Collins is the first professional athlete playing a major American team sport to come out. At one point, this would have been considered a huge milestone. In this day and age, is it still? 
In a word, no. Which is not to say it isn't a great thing: He is a smart and appealing spokesperson for breaking out of the closet, the latest of many in many walks of life who have preceded him. But it's not clear whether an alumnus of such worldly and elite institutions as Harvard-Westlake prep school in Los Angeles and Stanford University is representative of pro athletes in team sports or that his new freedom can be easily embraced by many of his peers. We'll see. History and public opinion are moving so fast on this issue, maybe. At the very least, we should be encouraged by the almost entirely supportive reaction Collins has received. He's been cheered on not just by the expected and sometimes self-serving liberal politicians and celebrities, some of whom (e.g., Bill Clinton) were too slow to "evolve" on this issue, but also by fellow athletes.  
Last week, Politico published a piece by Mike Allen and Jim Vandehei simultaneously criticizing and celebrating Times reporter Mark Leibovich for writing a book on D.C. culture while also being part of it. This past Saturday night was the annual journalist-celebrity-politician schmooze-fest that is the White House Correspondents' Dinner. How uneasy are you with this brand of Beltway navel-gazing?
Mark Leibovich is one of the wittiest writers about politics around. If he is already provoking Politico to take a preemptive strike at a book that no one has read and isn't out until July, he must be doing something right. Indeed, we'll know Leibovich's book, titled This Town, is a success if he can never eat lunch in that town again. As for the White House Correspondents' Dinner, it is what it is — a campy hoot as long as you don't have to attend. Just seeing (on C-Span) how the Washingtonians are dressed as they saunter down the red carpet is hilarious; the town's fashion sense hasn't changed all that much since I attended the senior prom of my D.C. high school, Woodrow Wilson, quite some time ago. This year, as in other recent years, the only real winner at the dinner itself was President Obama. He was funny, and watching journalists and politicians squirm as the president mocks them is always a fabulous spectator sport. The black-tie audience in the ballroom looked as if it was having about as much fun as the Broadway opening-night crowd at Springtime for Hitler.