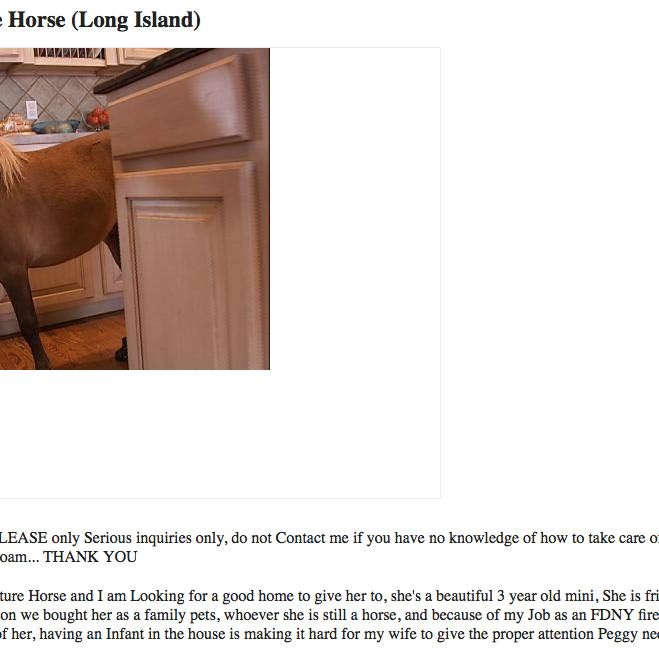 A mysterious Craiglist ad offering a miniature horse named Peggy at no charge was posted this morning, thrilling Parks and Recreation fans, specifically Li'l Sebastian enthusiasts, everywhere. "I am Looking for a good home to give her to, she's a beautiful 3 year old mini," the listing reads. "She is friendly and interact well with people. For this reason we bought her as a family pets, whoever she is still a horse, and because of my Job as an FDNY firefighter I do not have the time to take proper care of her, having an Infant in the house is making it hard for my wife to give the proper attention Peggy needs … "
Most of that is factual, except there is no horse.
Reached via the phone number listed in the ad, Troy, an FDNY firefighter, said he's been getting calls all day but has never heard of the magical creature named Peggy. "It's gotten a little bit of attention," he said dryly. "I didn't post it. I'm trying to figure out who did."
"All the information is true except for the fact that I don't have a horse," he said. "My wife is at home frantically trying to call Craigslist, but they don't really have customer service." The ad is, as of now, still live, almost five hours after it was posted.
Troy said he had one idea of who might pull that sort of gag, but the suspect insisted he would never do such a thing. Asked if it was the weirdest thing to ever happen to him, Troy, audibly frustrated, said, "Probably at least in the top five." And then he hung up.