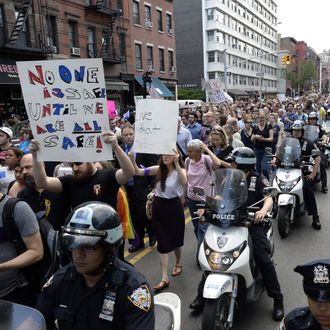 Marchers make their way through the West Village on Monday.
On Monday night, about a thousand people marched through the West Village to Sixth Avenue and West Eighth Street, where 32-year-old Mark Carson was shot dead over the weekend, supposedly because he was gay. Christine Quinn, as well as most other mayoral candidates, and Edie Windsor, the plaintiff in one of the gay-rights cases currently before the Supreme Court, joined in the rally protesting the recent uptick in anti-GLBT violence — though the family of suspect Elliot Morales claims the murder wasn't actually a hate crime.
Morales was charged with second-degree murder as a hate crime, menacing, and two counts of criminal possession of a weapon, and is being held without bail at Rikers. While he reportedly made anti-gay remarks before shooting Carson in the head, Morales's sister Edith Gutierrez tells the Post she's bisexual, and her brother's crime wasn't motivated by sexual orientation. "We're not a prejudiced family. We have African-Americans, Dominicans, gays and Mexicans in our family. It's a lie to say he hates people," she said.
Supposedly Morales told the family in a phone call from prison that he was blacked out while shooting Carson. "He had memory loss from molly [Ecstasy] abuse and drinking. He had no idea what he had done," said Francis Rivera, Morales's nephew.
Eventually a jury will sort out the true motivation behind the murder, but in the meantime, the city is taking action against hate crimes, which police say have nearly doubled in New York compared to the same period last year. Public schools are being asked to squeeze in lessons on hate crimes and bullying before the end of the year, and the NYPD said Monday that it will increase its presence in the West Village, Chelsea, and Hell's Kitchen through at least the end of June, which is Gay Pride Month.