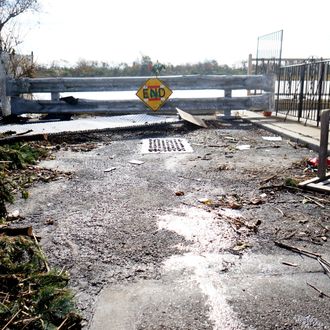 November 1,2012. Four days after hurricane Sandy slammed into the New york area residents of Gerritsen Beach Brooklyn work on recovering from the storms disasterous path.Coming back after evacuating their homes people are dealing with flooding,power outages,lack of utilities and no drinking water.
Photo: Richard H. Cohen/Corbis
The body of 14-year-old Shaniesha Forbes was found naked on Gerritsen Beach in January, and now a medical examiner has determined that she died of "homicidal asphyxiation," which includes suffocation and smothering. Authorities quickly determined that the burns on her hands, face, and legs weren't life threatening, but her cause of death had stumped investigators. A bonfire was held on the beach about 50 feet from her body, though it's unclear if it's connected to her death and police still have no suspects.