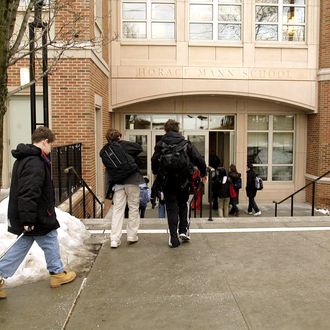 Nearly one year after allegations of a longstanding culture of molestation and sex between teachers, coaches, and students at Horace Mann first surfaced in the The New York Times Magazine, the Bronx prep school has finally publicly acknowledged the abuse with a long letter posted to its website. "It is clear that between 1962 and 1996, former teachers and administrators in fact did abuse, in various degrees, students at Horace Mann School," said the letter, which was signed by headmaster Thomas Kelly and board of trustees chairman Steven Friedman. "We sincerely apologize for the harm that was caused by the teachers and administrators who abused anyone during their years at Horace Mann School. These unconscionable betrayals of trust never should have happened. But they did, and now we, as a school, must fully accept this reality."
In March, Horace Mann reached settlements "worth hundreds of thousands of dollars" with around 27 alumni who said they were abused, though the school didn't comment on the payouts at the time. And, last month, as the Times notes, the Bronx District Attorney's office said "that a 10-month investigation into the abuses identified at least 12 possible abusers." However, those people could not be prosecuted because the statue of limitations on the crimes has passed. 
The apology will hopefully grant some solace to the hundreds of former students who, prompted by the initial Times story, came forward online and elsewhere in the press to share their own disturbing tales of abuse. The letter promised to effectively remove board of trustee members who served when the allegations were ignored and announced the creation of a new student safety policy and advisory board. Still, it did not offer one of the victims' chief demands: an independent inquiry into the over 30-year period of abuse.
Instead, Horace Mann will release a report written by a private mediation firm summarizing the "inexcusable conduct" experienced by 31 victims who detailed their experiences to the school's current administration. The letter characterized the decision as a practical matter, since most of the abusers are now "dead or mentally infirm," or unwilling to respond to the allegations, which "the School does not have the authority to compel" them to do. But it also means the story of exactly what happened will probably never be fully told.