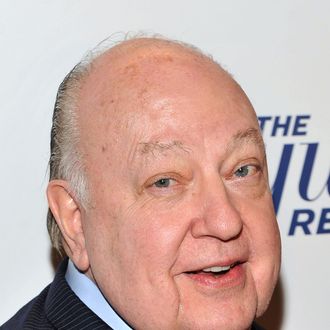 Photo: Stephen Lovekin/Getty Images
The paranoia and influence of Fox News CEO Roger Ailes have been well-documented, although the more colorful aspects of the most important man in cable news's personality were absent from Zev Chafets's recent fawning, essentially authorized biography. Not so in the forthcoming book from MSNBC contributor and Bloomberg View columnist Jonathan Alter, The Center Holds: Obama and His Enemies, which covers the last two years in American politics, most notably the presidential election, and comes with a chapter on Fox News. Stories about Ailes cutting the mike on Geraldo Rivera notwithstanding, the CEO's views are so embedded in the network's DNA, Alter explains, that he rarely has to tell his employees what to do. They know what produces ratings.
Alter calls Fox News the "validator" of stories that originate from conservative websites like Newsmax, the Washington Examiner, the Daily Caller, and Red State before winding up on Drudge, who filters those that will most rile the conservative audience. Fox News producers, who Alter claims are mostly "political centrists or even liberals," take their cues from there, often anticipating Ailes's desires. As an example, Alter points to the nomination of Sonia Sotomayor to the Supreme Court in 2009: "a Fox producer (whose colleagues believed him to be nonpolitical) sent out an email saying that of the two still photos the network had of Sotomayor, the unsmiling, less attractive picture should be used on the air." 
Rupert Murdoch, Alter reports, "routinely" says Ailes is "cuckoo," "bonkers," "nuts," and "crazy," according to two former News Corp. senior executives, but he sees the humor (and, of course, the dollar signs) in keeping him around. Still, Murdoch has been known to poke fun at his deputy: "Roger came in over the weekend to work in the only room that he thought was secure — a supply closet," the boss reportedly laughed to other Fox execs. According to Alter, this wasn't far from the truth: "Ailes had a television monitor on his desk that showed video of the empty hall outside his office so that he would have warning if terrorists were coming to kill him." Ailes, meanwhile, is said to be not ignorant of his own reputation: "They hate me because I'm fat," he's told co-workers repeatedly, writes Alter. 
Also on the subject of weight, Alter recounts the time Ailes attempted to get Chris Christie to run for president, setting up a meeting with Rush Limbaugh (who flew in on his private jet) and other important GOP-ers, as previously reported by New York's Gabriel Sherman (whose own Ailes tome is due in January 2014). "Christie gave the group three reasons for not running: It was too early in his tenure as governor; he had four kids and needed to make some money, which might not materialize if he ran and lost; and he admitted, 'I still like to go to Burger King and I'm not going to lose [the weight],'" Alter writes. Christie's joke, like Ailes's dream for 2012, reportedly fell flat.