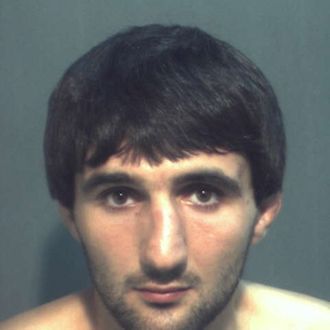 The ongoing investigation into the Boston Marathon bombing took a strange turn last night in an Orlando apartment. According to the FBI, Ibragim Todashev, a 27-year-old Chechen immigrant, was shot and killed by an FBI agent during an interview. Todashev "had been interviewed about his connections to the bombing suspects before by the FBI and started out cooperative," NBC News reports. "The suspect then went to attack the agent and was shot."
So who was Ibragim Todashev, and why was the FBI interviewing him in the dead of night five weeks after the terror attack? According to friend Khusen Taramov (which is also being spelled Tarmiv by some outlets), Todashev knew Tamerlan Tsarnaev but wasn't especially close with him:
"Back when (Todashev) used to live in Boston, they used to hang out – not hang out – he knew him.  They met a few times because (Todashev) was a MMA fighter and (Tsarnaev) was a boxer.  They just knew each other.  That's it," said Taramov, who added that Todashev last spoke with Tsarnaev via phone more than a month ago.
CBS News's John Miller has more details on the FBI's interest in Todashev:
"He had been interviewed along with a number of other people in the apartment complex, but the interest in him was higher because of a couple of factors: He was in contact with Tamerlan Tsarnaev. He had been to Boston to visit him, and he was planning a trip to Chechnya," Miller said.
Todashev's friend Taramov — who was also being interviewed by the FBI last night, "for three hours" — told WESH that Todashev just got his green card and was planning to visit his parents back in Chechnya. "He wasn't radical, he was just Muslim," Taramov says. "That was his mistake I guess." 
Not much else is known about Todashev. He had been "arrested by the Orange County Sheriff's Office on May 4 and charged with aggravated battery with great bodily harm," according to the Orlando Sentinel — hence the mugshot — but Taramov says Todashev had simply defended himself after being jumped by two men in a parking lot. "The only mistake he did — kicked their ass and left," Taramov says.
Indeed, Todashev was — briefly, at least — an MMA fighter. (A number of MMA videos on YouTube are labeled "Todashev Ibragim," although it's not clear if it's the same guy.) Taramov says Todashev wasn't currently working and was "living off insurance" following an accident.
Before the incident last night, Todashev had a sense of foreboding that something bad was going to happen. Something very much like what did happen:
"He felt inside he was going to get shot," Taramiv said about Todashev. "I told him, 'Everything is going to be fine, don't worry about it.' He said, 'I have a really bad feeling.'"
Update, 11:55 a.m.: This just gets crazier. NBC News is reporting that Todashev attacked the FBI agent with a knife just as he was about to sign a confession admitting to a Boston-area triple-murder in which Tamerlan and Dzhokhar Tsarnaev are also suspected to have been involved:
Todashev, they say, had spent some time in the Boston area, where he was a mixed martial arts fighter, and knew Tsarnaev there.  Investigators say he confessed to the agent in Florida that he played a role in a triple murder in 2011 in which three men were discovered slain in an apartment in Waltham, Mass. Their throats had been cut, and their bodies were covered with marijuana. No suspects had been arrested in that case.

Officials say FBI agents were questioning Todashev on Tuesday. He was cooperative at first, they say, but later that night, he attacked the agent with a knife, who shot and killed him. Officials say Todashev became violent as he was about to sign a written statement based on his confession.
Update, 5:15 p.m.: CBS adds that authorities do believe the Tsarnaevs were tied to the earlier murder:
A friend of Boston bombing suspect Tamerlan Tsarnaev implicated himself and Tsarnaev in an unsolved triple homicide before authorities say he instigated a violent confrontation that resulted in his death early Wednesday morning, CBS News correspondent Bob Orr reports.

Law enforcement sources told Orr that the man, a Chechen identified as Ibragim Todashev, implicated himself and Tsarnaev to authorities in the 2011 killings in Waltham, Mass., under questioning Wednesday at Todashev's apartment in Orlando, Fla.

Authorities went to the apartment after having obtained what the sources described as strong evidence to suggest that Todashev, Tsarnaev and his brother Dzhokhar were involved in the killings on the tenth anniversary of the Sept. 11, 2001, terror attacks.