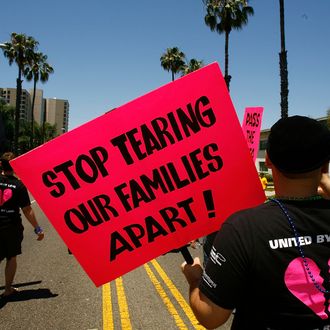 Photo: David McNew/2008 Getty Images
After deliberating for five days and considering more than 300 amendments, the Senate Judiciary Committee approved the bipartisan immigration reform bill on Tuesday evening, clearing the way for a debate on the Senate floor early next month. The bill was approved 13-5, with support from only three Republicans; Gang of Eight members Jeff Flake and Lindsey Graham, and Orrin Hatch, who the group wooed by accepting his amendment to offer more visas for high-skilled workers. The new version of the bill should be more palatable to Republicans, particularly since they won their game of chicken with Patrick Leahy over adding provisions to protect same-sex couples.
Last month after several prominent Republicans, including Marco Rubio, said they wouldn't support an immigration bill that allows green cards for same-sex partners, Leahy scoffed, "It's not going to kill the bill." However, other Democrats weren't willing to test that theory. Immigration and gay-rights advocates tell the New York Times that the White House pressured Leahy to drop the issue for now, and just before the vote several Democrats announced they wouldn't support the amendment. Dick Durbin said he agrees with the measure in his "heart of hearts," but "I believe this is the wrong moment, and this is the wrong bill." Chuck Schumer declared that omitting the amendment amounts to "rank discrimination," but added, "As much as it pains me, I cannot support this amendment if it will bring down the bill."
Leahy agreed to withdraw the amendment with a "heavy heart," and offered another dig at those opposing the measure. "I take the Republican sponsors of this important legislation at their word that they will abandon their own efforts if discrimination is removed from our immigration system," he said.