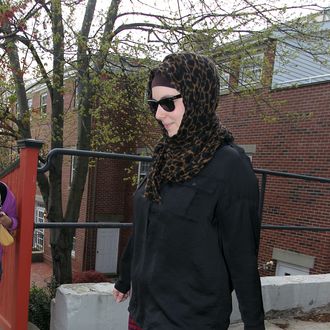 Katherine Russell.
Photo: Stew Milne
Though Tamerlan Tsarnaev's widow, Katherine Russell, has maintained that she was "utterly shocked" by her husband and brother-in-law Dzhokhar's bombing of the Boston Marathon, the authorities seem to think that the 24-year-old knew more than she's been letting on. In a story about Russell's decision to give up her life as a "social butterfly" college student to convert to Islam and marry Tsarnaev, the New York Times reports that investigators are "interested" in a text message she sent her husband when she saw his photograph on TV after the bombings. Meanwhile, the Washington Post reports that a probe of Russell's computer turned up issues of Al Qaeda's Inspire magazine and "other radical Islamist material," though it's not clear  that she downloaded it herself.
There's also the question of whether she noticed anything unusual in the small apartment she shared with Tamerlan and their 3-year-old daughter — especially because that's where Dzhokhar said he and his brother built their pressure-cooker bombs. (The female DNA found on one of the explosives did not match Russell's.) From the Associated Press:
Robert Clark Corrente, a former U.S. attorney for Rhode Island, said it is unlikely Russell could be prosecuted if she saw a pressure cooker in the home. But if she saw a dozen pressure cookers and several bags of fireworks, that could be a different story.
Though she reportedly stopped cooperating with investigators last week, Russell, who has been staying with her parents in Rhode Island since the attacks, is being constantly watched by federal agents. The Harvard Criminal Justice Institute's Ron Sullivan told the AP that the authorities' openness about their surveillance — along with news leaks suggesting that she's hiding information — are likely part of a strategy to use "social pressure" to get her to be more forthcoming. "She's the mother of a young daughter. I imagine she does not want to be deemed as a pariah or ostracized by the whole country," he explained. Of course, that possibility — along with the threat of prison — could be exactly why she quit talking.