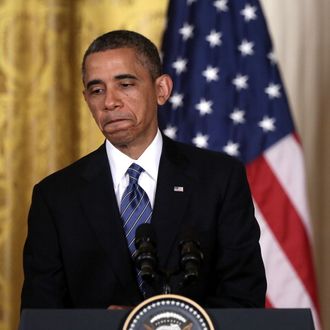 When Jay Carney avoided anything substantive Tuesday about the IRS scandal, he used the inspector general's report as a foil, saying the administration needed to wait for that to come out before the White House could respond. Well, the report has come out, and the administration has responded in a statement issued Tuesday night, in which the president called the findings "intolerable and inexcusable," saying he had directed Treasury Secretary Jack Lew to "make sure that each of the Inspector General's recommendations are implemented quickly." The FBI, meanwhile, has launched a criminal investigation into the agency. Still, Republicans are howling for blood, and Democrats are not hushing them.
"Heads need to roll today," Rep. Vern Buchanan said on Tuesday as the House Ways and Means Committee, of which he is a member, prepares to hold a hearing on the scandal this Friday. "Senate Republican leader Mitch McConnell urged Obama to make all of those who knew about IRS misconduct available for questioning, and said there should be 'no more stonewalling,'" Reuters reported.
But Republican outrage was to be expected here. The problem for the administration is that its counterweight, Democratic support, has been eroding. Politico posited, based on some insight from unnamed Washington insiders, that Democrats are finding it easy to turn on Obama because they see him as aloof and unapproachable, just like the Republicans:
"He has never taken the Democratic chairs up to Camp David to have a drink or to have a discussion," the longtime Washingtonian said. "You gotta stroke people, and talk to them. It's like courting: you have to send flowers and candy and have surprises. It's a constant process. Now they're saying, 'He never talked to me in the good times.' "
Now that it's bad times, you have people like Rep. Elijah Cummings, a Democrat from Maryland, going on CNN and calling the scandal "one of the most alarming things" he's ever seen and saying laws were "probably broken." Former Bill Clinton adviser Vernon Jordan added Obama "needs to fire somebody. He needs action, not conversation."
That may just happen, especially with Obama's promise in his statement to "hold those responsible for these failures accountable." But as The Wall Street Journal pointed out, the IG report said it "could not specifically determine who had been involved in creating the criteria" that led to certain groups being targeted for extra scrutiny. So it's unclear who's going to need to take a fall. Fortunately, the Washington Post identified no fewer than ten promised congressional investigations bent on figuring that out.