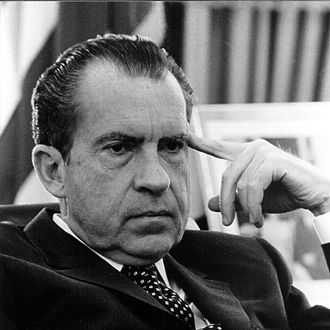 Nobody will ever be as Nixonian as Richard Nixon.
Photo: National Archive/Newsmakers
Ever since it was discovered that the IRS had applied special scrutiny to applications from groups with tea-partyish or conservative-sounding names, President Obama has found himself compared to President Richard Nixon, who famously sought to use the IRS to screw his "enemies." 
"This is Nixonian. This is a president whose inner Nixon is being revealed," Lou Dobbs said yesterday. 
"I don't think Obama ever wanted to be on the same page as Richard Nixon. In this specific case, he now is," wrote Time columnist Joe Klein. 
At yesterday's White House press briefing, Jay Carney was asked, "President Obama has been compared to President Nixon. How does he feel about that?"
In case it wasn't clear before, the inspector general's report on the IRS scandal, released this afternoon, reveals just shallow and lazy the Obama/Nixon comparison truly is. Here's the key paragraph: 
We asked the Acting Commissioner, Tax Exempt and Government Entities Division; the Director, EO; and Determinations Unit personnel if the criteria were influenced by any individual or organization outside the IRS. All of these officials stated that the criteria were not influenced by any individual or organization outside the IRS. Instead, the Determinations Unit developed and implemented inappropriate criteria in part due to insufficient oversight provided by management. Specifically, only first-line management approved references to the Tea Party in the BOLO [Be on the Look Out] listing criteria before it was implemented.
This was not a White House crusade against Obama's enemies. This was a fairly mundane, bureaucratic screw-up. The only similarities between this incident and Nixon's use of the IRS as a political weapon is that both happened to involve the IRS. If that's all it takes to invite a Nixon comparison these days, then we were all acting a little "Nixonian" when we filed our income taxes last month. 
Sources