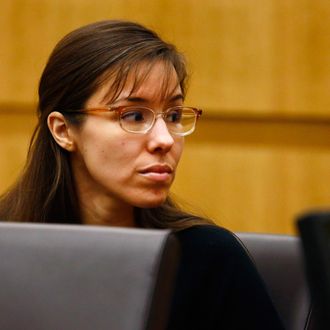 Photo: Rob Schumacher/The Arizona Republic/Reuters/Corbis
Jodi Arias, the woman who (eventually) admitted to shooting her ex-boyfriend Travis Alexander, stabbing him 27 times, and slitting his throat, but claimed she did so in self-defense, was nonetheless found guilty today in Arizona of premeditated murder. The verdict in the absolutely epic, insane cable news trial of the year — catch up here — came after more than fifteen hours of deliberations, in which the jury decided between first-degree murder, second-degree murder, and manslaughter, with Arias's guilt already appearing obvious. Arias could face the death penalty; the next phase of the trial begins tomorrow.
Arias and Alexander continued to sleep together after they broke up in 2007, but when he turned up brutally murdered the next summer, she started down a bizarre trail of shifting stories starting with claims of home intruders and ending with a portrait of Alexander as a controlling monster with pedophilic tendencies, who kept Arias as his "dirty little secret," in the words of the defense. The evidence presented at the trial was even more strange, including social media profiles, naked photos, and phone-sex tapes played in court over more than four weird months. Arias alone testified for eighteen days.
"What this evidence shows is that either what happened is that Jodi Arias defended herself and didn't know when to stop, or she gave in to a sudden heat of passion," her lawyer argued. "Ultimately, if Miss Arias is guilty of any crime at all, it is the crime of manslaughter and nothing more." The jury disagreed.
While the defense attempted to make Alexander out as an abusive sexual deviant, the prosecution said Arias was a jealous stalker obsessed with Alexander and incensed over text messages from other women during the pair's ongoing affair. "She rewarded that love from Travis Alexander by sticking a knife in his chest," said prosecutor Juan Martinez, who signed autographs outside the courtroom during the circus of a trial.
"No jury is going to convict me," Arias had claimed in a jailhouse interview before the legal proceedings began, "because I am innocent and you can mark my words on that. No jury is going to convict me."
Update: In an interview after her conviction, Arias said she wants the death penalty, telling Fox affiliate KSAZ that she would "prefer to die sooner than later."
"Longevity runs in my family, and I don't want to spend the rest of my natural life in one place," she said. "I believe death is the ultimate freedom and I'd rather have my freedom as soon as I can get it."