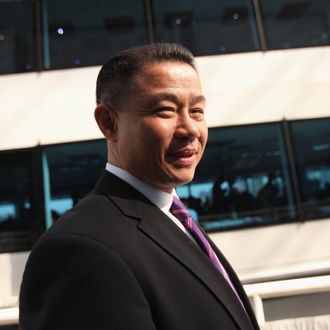 After two former associates of New York City comptroller and mayoral hopeful John Liu were found guilty in a campaign finance fraud case, Liu said he was "proud of the way that my campaign has been conducted," and indicated he had no plans to pull out of the race. Former campaign treasurer Jia "Jenny" Hou and former fundraiser Xing Wu "Oliver" Pan were both convicted of attempted wire fraud. Hou was also convicted of obstruction of justice and making false statements and Pan of conspiring to commit wire fraud. They both face a maximum of twenty years in prison, though they will likely get much less. Liu, meanwhile, had praise for his former associates and his campaign.
"I am proud of the way that my campaign has been conducted. I've always said that all along. This is an investigation that has been going on now for almost four years including tapping my phones, interrogating thousands of my supporters. It is what it is. I'm moving forward with my campaign. And at the end of the day, the voters of this great city will decide," Liu said at a press conference Thursday evening. He called Hou "very capable" and a "good person," Politicker reports, but didn't extend the praise to Pan. "I said what I said about Jenny."
The problem for Liu is that as comptroller he's in charge of making sure everybody gets their accounting right. And as plenty of commentators told The Wall Street Journal, if he can't do that effectively in his own campaign, it doesn't look good for his potential performance as mayor.