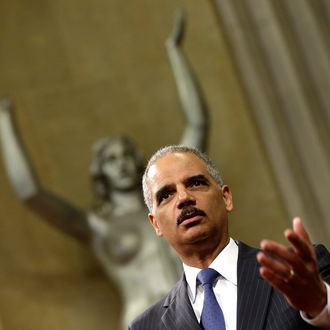 Eric Holder.
Photo: Win McNamee/Getty Images
This week the Department of Justice offered to talk with media outlets about allegations that it's been overly aggressive in its leak investigations, but insisted that the meeting be off the record, leading many organizations to boycott it. The restriction was later loosened to allow journalists in attendance to generally describe what was discussed, which led to a spate of odd articles in which reporters quoted their co-workers on what went down during the meeting.
According to the five journalists present, representing The Daily News, The New Yorker, Politico, The Wall Street Journal and the Washington Post, Attorney General Eric Holder and his aides explained they're committed to letting journalists do their job, but have to balance that with what they see as serious national security concerns. Justice Department officials said they intend to change their guidelines for leak investigations, which haven't been updated in more than two decades. Some possibilities floated were expanding the number of DOJ officials who must agree that a issuing a subpoena is justified, and holding annual reviews with media organizations. "I didn't come away with a precise understanding of how those guidelines might change, and I didn't have impression they were settled in their own mind," said Politico editor-in-chief John Harris.
Administration officials said they plan to have more discussions with reporters, editors, attorneys and academics as they work on revising their policies. "We are genuinely interested in the input, the opinion, the advice of leaders of prominent media organizations," said White House deputy press secretary Josh Earnest earlier on Thursday. "We are hopeful and optimistic that we are going to find a way to get their input." Maybe journalists boycotting the DOJ's discussions can pass along their thoughts via media friends who are on speaking terms with the department, then wait for their colleagues to report back on the next off-the-record meeting.