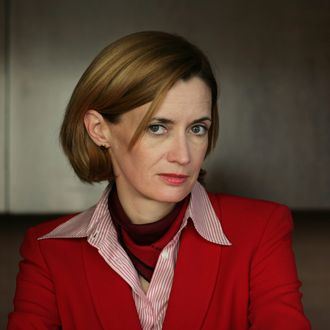 Blythe Masters, to the principal's office NOW.
Photo: Pascal Perich/Corbis
There are only three certain things in this world: death, taxes, and JPMorgan Chase perpetually being in trouble with regulators.
The House of Dimon — which is currently being investigated by at least eight (eight!) federal agencies for various misdeeds — is showing an admirable commitment to staying in murky legal territory. Today's New York Times contains juicy details about three bank activities that have drawn the attention of regulators.
One of the regulators currently taking a hard look at JPMorgan, according to the Times, is the Office of the Comptroller of the Currency, also known as the agency JPMorgan ran rings around during the London Whale scandal. This time, the OCC isn't upset about billions of dollars in trading losses; it's mad that JPMorgan allegedly had a bad habit of "relying on faulty documents when pursuing lawsuits against delinquent customers," and, separately, that the bank failed to catch Bernie Madoff's Ponzi scheme in action:
[T]he comptroller's office raised concerns that the company may have violated a federal law that requires banks to report suspicious transactions. Eventually, the people said, the agency could reprimand the bank for the potential oversight failures.
The biggest new revelation is that JPMorgan is being investigated by the Federal Energy Regulatory Commission over allegations that it screwed with energy prices at power plants it oversaw in California and Michigan, costing those states millions of dollars in excess fees. (Did you know JPMorgan operated power plants? I did not!)
The executive being blamed for the power plant screw-up is JPMorgan's global head of commodities, Blythe Masters. Masters (also known as the woman who invented the credit default swap) may be held "individually liable" for approving the energy-price schemes, along with some traders she oversaw, according to the Times. JPMorgan insists it did nothing wrong, saying, "We strongly dispute that Blythe Masters or any employee lied or acted inappropriately in this matter."

Not that any of this will hurt JPMorgan Chase in the least, even if true! That would require the bank's investors to care about its seemingly bottomless well of legally questionable activity. And so far, they still only have one thing on their mind:
"As long as you're making money, investors don't care," said Paul Miller, a managing director at FBR.