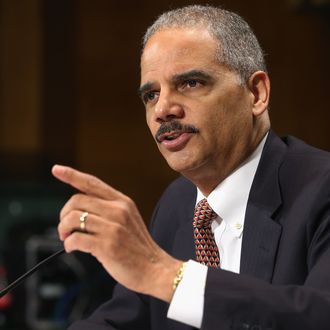 I can haz phone records?
Photo: Chip Somodevilla/Getty Images
"On this World Press Freedom Day, the United States honors the role of a free press in creating sustainable democracies and prosperous societies … [W]e call upon all governments to seize that promise by recognizing the vital role of a free press and taking the necessary steps to create societies in which independent journalists can operate freely and without fear." —President Obama, May 3, 2012. 
"The Justice Department secretly obtained two months of telephone records of reporters and editors for The Associated Press in what the news cooperative's top executive called a 'massive and unprecedented intrusion' into how news organizations gather the news … In all, the government seized those records for more than 20 separate telephone lines assigned to AP and its journalists in April and May of 2012." —A May 13, 2013, AP story. The Justice Department has not explained its actions, but the AP assumes they are part of an investigation into who leaked news of a Yemeni terror plot to the news organization.