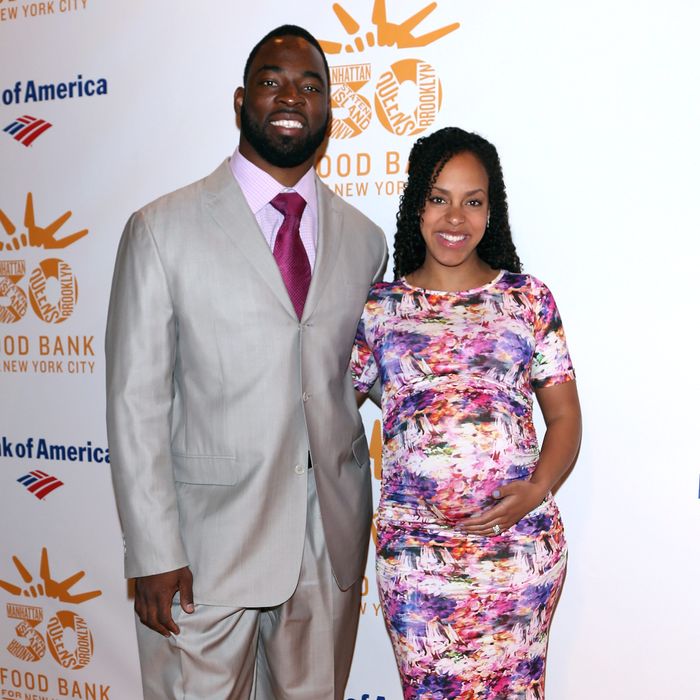 Justin and Lauren Tuck.
Photo: Anna Webber/Getty Images
New York Giants defensive end Justin Tuck would welcome a gay athlete into the locker room — as long as he can play. "The only way I'm not comfortable with a teammate," Tuck, a two-time Pro-Bowler, told Daily Intelligencer at the Food Bank Can-Do Awards Gala at Cipriani last night, "is if he's not helping me win football games."
Tuck said he was happy for Jason Collins and is proud of the support he's received from the world of sports. "It's great, because, as [Collins] said in the interview, he can go about living his life and not worry people finding out," Tuck told us. "It's like a burden lifted off of him. And you know, what I like is all the guys in the NBA and all around athletics coming to his back and supporting him. Because, I think, everyone says gay, but we're all human beings."
Tuck isn't exactly the ultimate spokesperson for gay acceptance, however. "Do I agree with it?" he said at one point in our conversation, referring to homosexuality. "No, I don't."
But unlike, say, ESPN's Chris Broussard, Tuck — who went to church "just about every day" growing up and leads the Giants Bible study group — doesn't think his religious views give him the right to judge others. 
"I am Christian, and I think we're all going to be judged for something. But, it ain't my place to judge," he told us. "He can live his life the way he wants to live it."