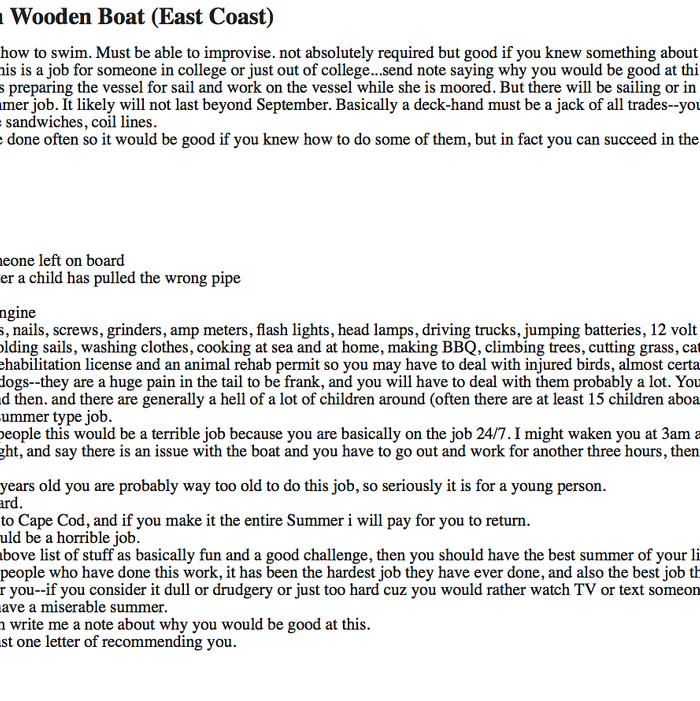 An epic, no nonsense job listing for a strapping, young deck hand was posted this week by a member of the Kennedy clan, according to a family member plugging the position on social media. Max Kennedy, son of Ethel and Robert, a.k.a. "the Captain," needs a reliable helper for the summer on the Hyannis Port boat where Taylor Swift learned to be fearless, but he is not playing around. "Hard work," reads the first line, and then come the details.
The job is part-skipper, part-nanny, part–Dr. Doolittle, and does not sound like it leaves much time to channel the family's mythic yacht glamour:
Basically a deck-hand must be a jack of all trades–you will have to purchase groceries for trips, make sandwiches, coil lines. The following things are done often so it would be good if you knew how to do some of them, but in fact you can succeed in the job with no knowledge of any of these things:

–tying fishing knots
–tying a bowline
–climbing ropes
–running after children
–finding things that someone left on board
–cleaning out a head after a child has pulled the wrong pipe
–cleaning out a bilge
–changing belts on an engine
–working with hammers, nails, screws, grinders, amp meters, flash lights, head lamps, driving trucks, jumping batteries, 12 volt electrical, plumbing pipes, compressed air, folding sails, washing clothes, cooking at sea and at home, making BBQ, climbing trees, cutting grass, catching fish on lines and in nets. I have a raptor rehabilitation license and an animal rehab permit so you may have to deal with injured birds, almost certainly deal with an owl. We currently have nine dogs–they are a huge pain in the tail to be frank, and you will have to deal with them probably a lot. You will probably have to jump over board now and then. and there are generally a hell of a lot of children around (often there are at least 15 children aboard the boat)
It's also 24/7: "I might waken you at 3am after you have gone to bed exhausted, at midnight, and say there is an issue with the boat and you have to go out and work for another three hours, then get up at ten and start working again," says the listing. "If you are more than 22 years old you are probably way too old to do this job, so seriously it is for a young person."
But not a lazy young person who cares about technology: "For the vast majority of people who have done this work, it has been the hardest job they have ever done, and also the best job they have ever had. but if this work is not for you — if you consider it dull or drudgery or just too hard cuz you would rather watch TV or text someone, then please don't reply because you will have a miserable summer."
The ad — promoted on Facebook by Kennedy's niece with the note "Uncle Max seeking to employ!" and comments including "Looks like I had it easy … there were only six dogs when I had this job" — offers $2,000 a month, room and board, and travel: "I will pay for you to get to Cape Cod, and if you make it the entire Summer i will pay for you to return." If.