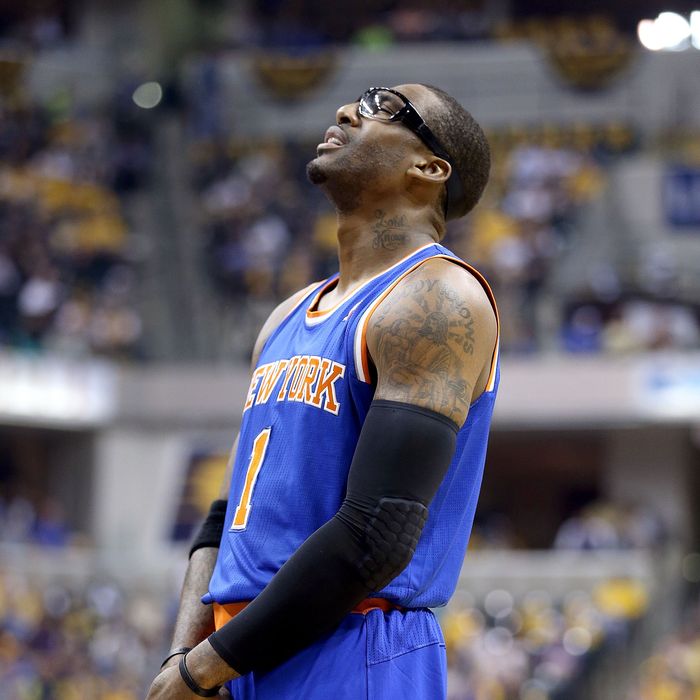 We know how you feel, Amar'e.
Photo: Andy Lyons/2013 Getty Images
At some point in his or her life, every Knicks fan has had to make a decision. With all that has surrounded this franchise — Jim Dolan, the Jeremy Lin fiasco, the constant media ridiculousness (on both sides) — it can be extremely tempting to give yourself up to the negativity. To stay with this team, this organization, you must decide to embrace positivity. For the last decade, this decision has been punished: Recounting the number of times, and in what fashion, would be masochistic. This year, at last, it was rewarded. You could believe that Carmelo Anthony could lead a title contender. You could believe that the Knicks' three-point-heavy offense, with Carmelo as both its leader and its decoy, could really work. You could believe that J.R. Smith was what his talent said he should be. You could believe this was the year. Four games into the Eastern Conference semifinals, it's becoming increasingly clear: This is not the year.
The Knicks lost to the Pacers 93-82 tonight in game four, falling behind 3-1 in the series and generally looking the worse team by a rather dramatic margin. It was hideous out there, man. The joy of this Knicks team most of the season has been their ball movement, their ability to work off of Anthony to find open men elsewhere. No one who has watched any of the last seven playoff games will possibly believe that, but we swear it's true. Because in the last week and a half, it has all imploded.
This series isn't over, but it seems fair, at this point, to start assigning some blame for what in the world is going on. As much as the talk radio gentlepeople might want to put this on Anthony, that makes no sense to us: He's the only guy doing anything. We're looking at:
1. J.R. Smith. This is an obvious one. He's been awful since The Elbow, but tonight might have been his worst night. His shooting stats for the night: 7-for-22 from the field, 3-for-10 from 3-point range. (Also, no assists, three turnovers.) He is having the worst free-agent pitch period imaginable: This is a slump at the worst possible time. He did come around a little bit late, if that means anything, scoring twelve in the fourth quarter.
2. Tyson Chandler. Everybody loves Tyson, but he has been a step slow, an inch short and several bumps weak this whole series. The Knicks have been pushed around and outrebounded the whole series. He still looks hurt.
3. Jason Kidd. Kidd, however, looks dead. The non-scoring streak is now at eight games, and now he's not passing, rebounding, or defending either. It is unfathomable that he played so many minutes in the second half. Which brings us to …
4. Mike Woodson. We've been big defenders of Woodson all year, but the playoffs have driven him insane. It's pretty difficult to understand many of his decisions, from:
a) Continuing to play huge lineups even though the only success the Knicks had against the Pacers all season was by going small and spreading the court;
b) Keeping both Smith and Kidd in the game for so, so long despite their obvious ineffectiveness;
c) Sticking Chris Copeland and (especially) Pablo Prigioni on the bench for almost the entire game despite their obvious offensive advantages for a team that desperately needed offense; it's like Woodson has decided he's coaching the Bad Boy Pistons or something. He isn't. At least Copeland got some minutes in the fourth.
d) Seriously, what in the world with Prigioni on the bench? The guy has arguably been the Knicks' third-best player this series (behind Anthony and an injured Iman Shumpert) and he played three minutes. I am baffled as to what Woodson is trying to do.
So: The Knicks are now down 3-1. This is not insurmountable. The Knicks still have two (potential) games at home, and despite what it has looked like this series, the Pacers have been inconsistent all season. This is still a winnable series. Seriously. We mean it. But the Knicks have to resemble the team they were for most of this entire season. They are far, far from that right now. This has been the best Knicks season in a decade and a half. But it looks for all the world that it's going to be over Thursday night.