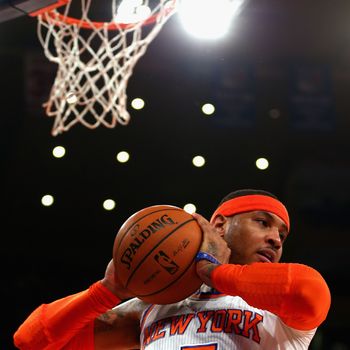 They live to play another day.
Photo: Elsa/2013 Getty Images
An hour before tipoff tonight, the vibe surrounding the Knicks was as positive as it has been in two weeks, probably since they went up 3-0 on the Celtics way back on April 26. After two days of doom and gloom, after a general resignation that, despite being five games better during the regular season, the Knicks were simply a worse team, overmatched, than the Pacers … everything changed in one news item. George Hill, the Indiana guard who scored 26 points in the Pacers' game four victory, had been ruled out for Game Five with a concussion. (He suffered it when being hit by Tyson Chandler relatively early in Game Four and still shot 9-for-16 on the game, causing several Knicks fans on Twitter to wonder aloud if Chandler should go punch J.R. Smith.) Suddenly, the Knicks' whole outlook brightened: Without Hill — whose concussion is likely to keep him out several days — the Pacers were thin in the back-court and off-rhythm from everything they'd been doing to take a 3-1 lead. The Knicks had life: They had hope. All it took was one of their opponents suffering a brain injury.
The Knicks beat the Pacers 85-75 tonight to survive and force a game six, which will take place in Indianapolis on Saturday night. It was an ugly game across the board, with numerous foul calls and no real rhythm throughout. (Though when J.R. Smith did this, it was sort of pretty.) The Knicks looked energized and inspired, though, even getting a little old school Knicks tough, particularly when Tyson Chandler nearly decapitated poor Lance Stephenson. They looked to be the better team most of the night, actually, which is why it was so scary late when the Pacers kept hanging around and hanging around, thanks to a terrific game from Paul George, who scored 23 points. Carmelo Anthony led the Knicks with 28 points, and he hit a ton of big shots late to shut the door when the Pacers were trying to put together one last run.
After a tumultuous couple of days, Knicks coach Mike Woodson took the hint, playing his small lineup a lot more, giving tons more minutes to Pablo Prigioni and Chris Copeland and finally realizing that Jason Kidd, hall of famer and all, is a decrepit disaster right now. (Amar'e Stoudemire wasn't getting many minutes either; neither man played in the second half.) Copeland was particularly excellent, scoring thirteen points; he's sort of exactly what the Knicks needed, and probably wouldn't have needed the last couple of games as well … ahem. The MSG crowd was never louder tonight than after a Copeland three-pointer. (He hit three.)
Everything the Knicks were struggling with in their losses in this series went well tonight, in large part because of Hill's absence and Roy Hibbert's foul trouble. Raymond Felton, in particular, was able to drive the lane and work pick-and-rolls, without Hill hounding him and without Hibbert to scare away anything near the rim. (Hill's absence also exposed just how thin the Pacers are.) Hill is uncertain for game six on Saturday night, which could be a serious, serious problem for Indiana, which needs that game to hold onto their home-court advantage and avoid a presumably terrifying game seven at the Garden on Monday. Because they sure looked like they needed him tonight.
One of the reasons the NBA Playoffs are so thrilling and frightening and exhausting is that they can change in a second, out of nowhere, in a fashion no one could have seen coming. Before Hill failed his concussion test late Thursday afternoon, the Knicks looked like they were toast. Now, amazingly, if Hill is still out or not at 100 percent (which would appear a fair assumption), they look to have the advantage for game six. You never know how these things are going to pan out. The Knicks aren't just back in this thing, they're one game away from controlling it. All because of a play that few noted at the time, a play that didn't seem to bother Hill at all afterward. What a strange game. You could never guess in a million years. We'll do this again Saturday. Tyson Chandler, who landed hard on his back late, may be hurt. All sorts of other bizarre things may happen. Any prediction anyone makes will be wrong. But one thing is certain: This isn't over yet.