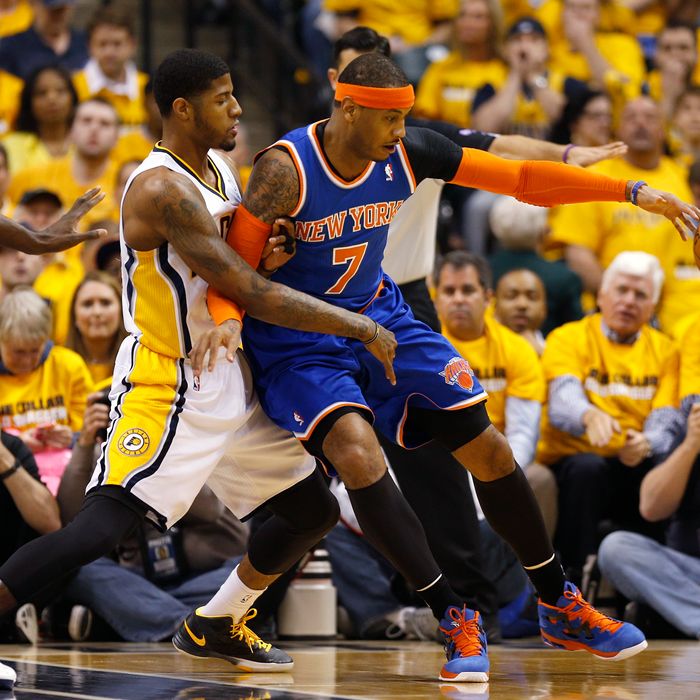 Yeah, not a good night.
Photo: Joe Robbins/2013 Getty Images
One of the strange things about the Knicks all season — one of the strange things about the Knicks for a few years now — is that when they look horrible, they look horrible: Like these are five strangers, picked at random, forced to play together even though a couple of them have never actually seen a basketball before. When they're rolling, like during that 30-2 run in game two, you think they can beat anyone in the NBA. When they're not, you can't believe they get paid for this. Tonight, it was the latter.
The Knicks lost 82-71 to the Indiana Pacers tonight, falling behind 2-1 in the Eastern Conference semifinals, and you can sort of learn everything you need to know about tonight's game by the Knicks' side of that score. They notched only 71 points, and they looked it. The Knicks did nothing right, turning the ball over, shooting terribly and never really pulling together any sort of sustained run. The Pacers wiped them out.
The Knicks have played some lousy games this playoff season, and some lousy halves, but we're not sure there was much worse than the first half of game three of the Eastern Conference Semifinals tonight. The Knicks shot 39 percent from the field, turned the ball over ten times and scored a total of 33 points. Their offense looked simultaneously stagnant and sloppy, J.R. Smith was lousy again and there was so much iso you thought maybe Mike Woodson had just decided that calling plays was a waste of time. The Knicks were so disoriented that they only took five three-pointers, and hit only one. It was just sort of gross. And yet the Pacers were only up by three. Never has such an abject failure felt so fortunate.
Unfortunately, they didn't take advantage in the third quarter, and it became clear fairly quickly that the Knicks were ready to let this one go. (They ended up with just 35 percent shooting.) Amar'e Stoudemire made his first appearance since March and was barely a factor, though a buzzer-beating three-pointer at the end of the third quarter helped keep the Knicks hanging around. Carmelo Anthony led the Knicks with 21 points, and that was just about it. The Knicks couldn't rebound, they couldn't shoot and they couldn't hang onto the ball. That all makes it awfully tough to win.
J.R. Smith was horrible again — to be fair, he was rather obviously ill — and Jason Kidd is starting to look like a guy you're going to be terrified to be paying for the next two years. But the real issue was the dominance of Indiana's Roy Hibbert, and just how much he has exposed Tyson Chandler, the one guy on the Knicks you're supposed to be able to trust. (Also, maybe Raymond Felton, and he was lousy tonight too.) Chandler was a nightmare tonight, not only unable to contain Hibbert but also strangely disinterested on the defensive end. If you can't count on Chandler, look out.
So, it's only a 2-1 series lead for Indiana, with the Knicks looking like a team that had just sat around for the last five evenings, doing nothing. The Knicks have lost the home-court advantage, but they can get it back with a win in Indianapolis on Tuesday night. That game suddenly looks vital: Take away that 30-2 run in game two, and you can easily imagine the Knicks being down 3-0 right now. If the Knicks fall behind 3-1 after Tuesday, this could get real hairy. The Knicks didn't do anything right tonight, and were wiped out accordingly. Needless to say, that can't happen again. Even if it kind of feels, as of this second, that it's going to.