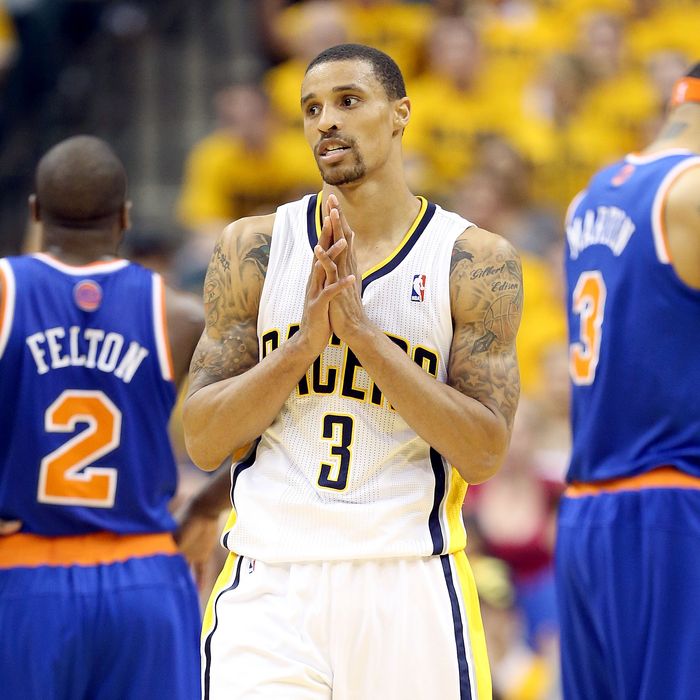 That's all for the Knicks.
Photo: Andy Lyons/2013 Getty Images
The Knicks season — their best in nearly fifteen years — is over. The Knicks lost 106-99 to the Indiana Pacers tonight, ending their season with a 4-2 series loss. Perhaps in a just world, people would spend the whole off-season talking about coach Mike Woodson. But you get a sense they won't be. You get a sense they'll be talking about Carmelo Anthony. They're always talking about Carmelo Anthony.
Anthony scored 39 points, but he barely scored in the fourth quarter (and shot poorly), which will be the talking point on every radio broadcast, but boy, was it ever not a proud night for Knicks coach Mike Woodson, whose reputation has fallen so much since game four of the first round you wonder if he's going to be on hot-seat watch from November on next season. He made tons of mistakes — keeping Pablo Prigioni on the bench so long, keeping J.R. Smith in the game despite wretched plays on both ends of the floor, playing Jason Kidd and Amar'e Stoudemire at all — and by the end, you found yourself throwing soft things at the television screen every time Woodson was shown. This Knicks team never quite figured out what they were: Their best lineups — generally small, with Carmelo at the four, surrounded by shooters — seemed against Woodson's very nature, and the minute he could avoid such a strategy, he bailed. (You can make an argument that the Knicks were at their best when Woodson had no options and had to stay out of the way.) That left all the ugliness of pretty much every game but game five, which was so ugly it should barely count. And his fourth-quarter substitutions tonight weren't much better: It took him forever to get Shumpert back in the game, and when he did, he came in for Chris Copeland (who was draining threes all over the place) rather than J.R. Smith, who wasn't just missing shots, he was being abused on defense. Woodson kept playing into Indiana's strengths while ignoring his team's own.
Fact is, this is a shooting team. They are supposed to shoot. In the third quarter, they finally did. The third quarter of tonight's Knicks-Pacers game should be bottled and distributed to anyone who is ever — justifiably, we hasten to add — cynical about the Knicks. Actually, maybe just the last six minutes, from when the game was 72-60 Pacers. Then Iman Shumpert hit three three-pointers in a row. (He'd hit one more.) Everything started coming together at once. This happened. It was a 21-9 run, but it was more than that: It was a sudden, dramatic, astounding return from the dead. The Knicks are a shooting team. When they hit shots they win, and when they don't hit shots, they lose.
But Woodson isn't that sort of coach: He's the sort of coach who feels — like many Knicks fans and much NBA conventional wisdom, it's worth noting — that relying on shots in the playoffs is somehow unmanly, that Real Men clog the lane and play isolation and whatever other weirdness. Thus, not much Copeland, not much Prigioni, and endless, endless hours of J.R. Smith. In the end, he paid for it. Well: Now that we think about it, Carmelo will pay for it. This is what Carmelo asked for, of course — this roster, that contract, this coach. If you want to blame him, you may have a case. We just don't think it's a strong one. This Knicks team had tons of underutilized talent, and kept putting itself in difficult positions to win.
Maybe we're wrong. We'll never know. The Knicks' season is over, in six games, in just the second round of the playoffs. It's the farthest the Knicks have made it in the playoffs this century. It's a success, particularly when you remember just how awful it has been around here over the last decade. But it doesn't feel like that now. It feels like failure, and like someone has to pay. We think it should be Woodson. But we bet it's Carmelo. We have a whole summer and fall now to debate it. Maybe we can all discuss it as the Indiana Pacers are playing the Miami Heat in the Eastern Conference finals, and the Knicks aren't.