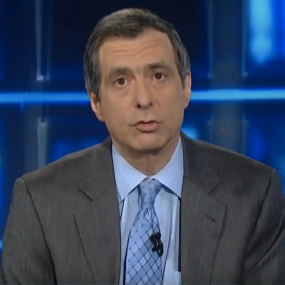 The Daily Beast's decision to "part company" with Howard Kurtz means that the media writer has had plenty of time to reflect on the terrible column he wrote last week about NBA player Jason Collins's Sports Illustrated coming-out essay. (Brief recap: Kurtz criticized Collins for not revealing that he had once been engaged to a woman, which was pretty stupid because 1) it doesn't matter and 2) Collins's piece included the line, "When I was younger I dated women. I even got engaged." When he was alerted to these issues, he tweaked the post before retracting it all together.) On Sunday's broadcast of his CNN show, Reliable Sources, Kurtz — who was joined by Politico's Dylan Byers and NPR's David Folkenflik — apologized for reading the article "too fast" and "carelessly" missing the part about Collins's heterosexual relationships. "[I] commented that he was wrong to keep that from readers when, in fact, I was the one that was wrong," he said.
However, he didn't really explain why he thought the engagement detail warranted writing about at all: "My logic between what happened between Jason Collins and his former fiance and what was and wasn't disclosed — in hindsight, well, I was wrong to even raise that and showed a lack of sensitivity to the issue."
Additionally, Kurtz said he was sorry for the Daily Download video in which he "wrongly" snickered, "Obviously, in basketball terms, [Collins] has played both sides of the court." When Byers asked why he felt the need to mock major-league sports' first openly gay male athlete, Kurtz responded, "I shouldn't have done that. My tone was completely inappropriate. What Jason Collins did was a difficult step and a courageous one … it is his story to tell." Indeed, he also said that he regretted that he "didn't give [Collins] a chance to respond to my account before I wrote it" — a move that certainly would have saved him a lot of trouble, in retrospect.