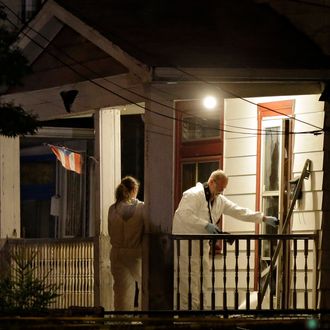 About a decade ago, Cleveland women Michele Knight, Amanda Berry, Gina DeJesus all went missing. Then 19-year-old Knight was last seen leaving a cousin's house in 2002; Berry disappeared on the eve of her seventeenth birthday after her shift at Burger King in 2003; and DeJesus was 14 when she vanished during a 2004 walk home from middle school. Though it's been years since their disappearances, the younger victims remained in the news: Clevelanders held rallies in their honor, and a man named Robert Wolford captured the community's attention when he falsely told investigators that Berry's body was buried in a vacant lot. Charles Ramsey helped rescue all three of the women on Monday after he heard Berry yelling from his neighbor's house.
"I see this girl going nuts trying to get outside," he explained. "I go on the porch and she said 'Help me get out. I've been here a long time.' I figure it was domestic violence dispute." Berry, who was holding a 4- or 5-year-old girl, gave Ramsey her name (though he said "it didn't register") and asked him to help her call 911, which he did after kicking down the door with help from another neighbor. When the police arrived, they discovered that Knight and DeJesus were being held in the home as well. The three women were brought to MetroHealth Medical Center in fair condition. "They are able to speak, they are safe, and hospital staff are assessing their needs and evaluating if they will spend the night," said one of the hospital's emergency room doctors. "This is good. This is not the ending we usually see from these stories."
The 52-year-old owner of the house, bus driver Ariel Castro, has reportedly been arrested, along with a 50-year-old man and a 54-year-old man who are said to be his brothers. Meanwhile, Ramsey — who said he was familiar with Castro and had never noticed any of the women entering or exiting the house — is already a GIF sensation. Watch the videos of his on-camera interviews and you'll see why:
Ramsey's conversation with a Cleveland 911 dispatcher is not to be missed (h/t to commenter Zidaane), though be warned: The language is not for kids. He also makes mention of Berry's own 911 call, a recording of which can be heard here.
This post has been updated throughout.