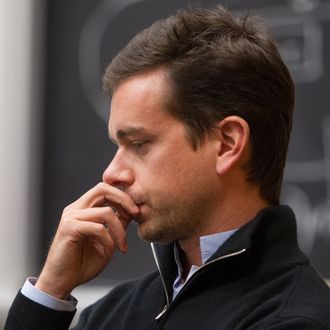 Hurt, in Hefe.
Photo: Bloomberg/2012 Bloomberg
Kara Swisher's definitive Vanity Fair story about last year's Instagram-Facebook acquisition covers a number of people whose lives were dramatically improved when Facebook shelled out $1 billion for the photo-sharing app, including Instagram founders Kevin Systrom and Mike Krieger and their investors, who all became stupid rich, and Mark Zuckerberg, who got to own one of the hottest apps on the market.
But Swisher also takes us deep inside the psyche of the loser of the battle for Instagram: Twitter creator Jack Dorsey.
You see, Dorsey wanted to buy Instagram, too. And he thought he had an inside track on the rising app, owing to the fact that Systrom had previously been an intern at his company. He was also one of the first outsiders to get a sneak peek at the brand-new app when it launched, and was wowed:
"From the start, Instagram was a simple application and a joy to use," Dorsey remembers. "I was blown away by how much detail they put into the experience.
But when Systrom got big, he forgot all about Dorsey, and left him hanging when it came time to sell Instagram. Instead, Systrom decided to sell to Zuckerberg, Dorsey's rival. Now Dorsey can't even bear to use the guy's app:
"I found out about the deal when I got to work and one of my employees told me about it, after reading it online I got a notice later that day since I was an investor," he says. "So I was heartbroken, since I did not hear from Kevin at all. We exchanged e-mails once or twice, and I have seen him at parties. But we have not really talked at all since then, and that's sad." Dorsey's last Instagram shot perhaps said the proverbial thousand words about it all: a picture of an empty Muni bus.
Dorsey has done okay for himself, thanks to his Twitter millions and his role as the CEO of Square. It's not like Systrom put him in the poorhouse. But still: feelings! If Systrom knew that his betrayal would one day send his former boss catapulting into a life of misery and selfie Vines, he might have thought twice before taking that Facebook meeting.