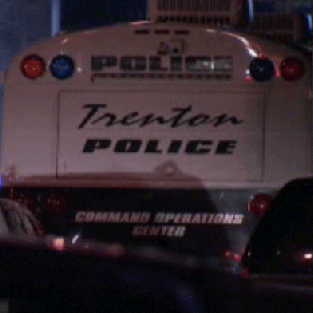 During a Friday wellness check, police found the decomposing body of a woman at a home on Grand Street in Trenton, New Jersey, but were forced to withdraw when an armed man, still unidentified, took the woman's children hostage. Enforcement sources have told The Times of Trenton the deceased is 42-year-0ld Carmen Kelly, a mother of five. Currently, Kelly's oldest child, a 19-year-old son, is safe with relatives, according to a family member, while her 17- and 14-year-old daughters and two more sons, one 4-year-old and one in his early teens, remain locked in their home. One of the kids has also been reported killed. The standoff paused last night due to to heavy rain in the area, but negotiators from the New Jersey State Police, FBI, and city police are still trying to talk the hostage-taker out of the house.
Update: The man has been identified as unemployed security guard Joe Murphy, 38, by neighborhood friend Juana Martinez. According to her, Murphy moved in with Kelly two months ago, after only knowing each other a month. Martinez told the New York Post that the gunman, who sometimes goes by "Skip," had been living in his car after Kelly recently kicked him out. Though he is said to have been starting a new job on Monday, Martinez insists, he was "depressed about [the breakup] and other things." She added that he once confessed to her he'd served "10 years on a sex rap."
Adding to the tragedy, police are now saying that it was Kelly's 13-year-old son who also died. Negotiations are continuing but there is no resolution at this time.