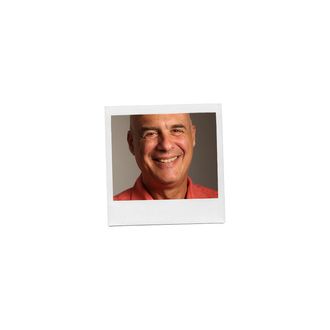 Photo: Courtesy of Mark Bittman
Name: Mark Bittman
Age: 63
Neighborhood: Upper West
Occupation: Writer/journalist/author, with his latest, VB6: Eat Vegan Before 6:00 to Lose Weight and Restore Your Health … for Good, out now.
Who's your favorite New Yorker, living or dead, real or fictional?
Three-way tie: Holden Caulfield. My daughter Kate. And Mitchell Orfuss. (They all have much in common.)
What's the best meal you've eaten in New York?
Three-way tie: Schwartzberg's (15th & First), 1962; Lafayette (63rd, I think, and Park), 1987. Jean Georges, 2013.
In one sentence, what do you actually do all day in your job?
I write for the Times and I cook; I travel and I do TV; I give talks and I publish books.
What was your first job in New York?
I delivered lunches part-time in midtown as a teenager; I drove a cab full-time when I turned 19.
What's the last thing you saw on Broadway?
I'm gonna say Passion, even though it's Off Broadway. Off Broadway is generally better anyway.
Do you give money to panhandlers?
Rarely. More to musicians.
What's your drink?
Minor white Burgundy. For $20 at home, you get to drink wine that sells for $80 in restaurants. And, sad to say — I wish it weren't true — there are few Chardonnays produced in the United States at twice the price that can compare with a decent St. Veran.
How often do you prepare your own meals?
Whenever I am home. I'm a decent cook and nothing is the same twice.
What's your favorite medication?
Morning: Coffee. Night: Minor white Burgundy. And famotadine.
What's hanging above your sofa?
Actually, above my sofa is a rotation. Right now it's an Alexey Titorenko. His stuff is amazing, he's a friend, and he's a New Yorker.
How much is too much to spend on a haircut?
I cut my own hair.
When's bedtime?
As early as possible. 9:30 p.m. is not uncommon. I'm usually up before 5.
Which do you prefer, the old Times Square or the new Times Square?
Old, by a long shot, of course. But running through Times Square at 5 a.m. is a trip.
What do you think of Donald Trump?
He's either an idiot or he's doing a very good job of pretending to be an idiot.
What do you hate most about living in New York?
You should see my subway station. It's embarrassing. Disgraceful. There oughtta be a law, as they used to say.
Who is your mortal enemy?
Death, I suppose. I'm not sure I have any living mortal enemies, though there are people who don't like me.
When's the last time you drove a car?
Monday.
How has the Wall Street crash affected you?
It reinforced the notion for me that most international corporations, especially those in the financial sector, are amoral and rapacious, and that even when we elect presidents whose victories make us so happy we could cry it doesn't change things much. I'm also of course affected by our eroding infrastructure, etc.
Times, Post, or Daily News?
Well.
Where do you go to be alone?
Running.
What makes someone a New Yorker?
Birth. Barring that, an ability and eagerness to jaywalk aggressively.