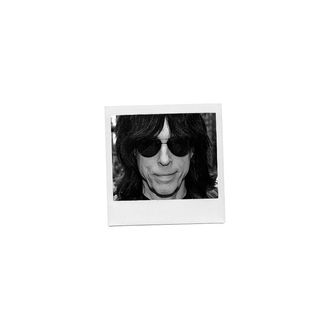 Name:  Marky Ramone
Age:  58
Neighborhood: Brooklyn Heights
Occupation: Entertainer, pasta-sauce-maker. This Friday, May 3, at Santos Party House, he'll be kicking off the tour of Marky Ramone's Blitzkrieg, with Andrew W.K. on vocals.
Who's your favorite New Yorker, living or dead, real or fictional?
Ralph Kramden/Jackie Gleason. Kramden really hit the nail on the head of what Brooklyn was and still is all about: people who have dreams and who have close ties to the neighborhood. He's a sweet, sensitive guy in his interior, but on the exterior he's gruff, and a little rough.
What's the best meal you've eaten in New York?
At Daniel. I don't go there often, but it's unbelievable, the concoctions he comes up with. When I do go there, I sample all the things that are available on the menu for the evening.
In one sentence, what do you actually do all day in your job?
I don't consider what I do a job.
What was your first job in New York?
Playing drums in my first band, Dust. When I was 13 years old I saw the Beatles on The Ed Sullivan Show, and I was just so into Ringo. He was my idol. And I just wanted to be in a band like that. So I started to bang on things, like the tables in school (the teachers didn't like that), and eventually I saved up and I bought a cheapo drum set. And I wrote away to the Ludwig drum company — because Ringo used Ludwig — and I got the sticker and I put it on the front of the bass drum head, and I wrote "The Beatles" on it with black electrical tape. That was funny. One of Dust's first shows was in Trinity Church in Wall Street. I guess they booked us out of curiosity.
What's the last thing you saw on Broadway?
Jersey Boys. I thought it was interesting. Obviously they're not the Four Seasons and they're not going to sound as great as the Four Seasons, but they did a good job and I liked the production and the fact that it was truthful.
Do you give money to panhandlers?
When I see an old person collecting cans and bottles out of garbage cans, I give them money.
What's your drink?
Brewer's yeast and water. When I was living alone in the bowels of Brooklyn and broke, I could live on this stuff. It had protein, it had all your nutrients, and you could put it in anything. It tasted horrible but it kept me going.
How often do you prepare your own meals?
Since I have my own pasta sauce now, I sometimes boil up some pasta and pour it on. I had to cook when I left my parents' house at 18. I was hanging out in the punk scene, and didn't have a dime to do anything, so any money I did have I went out and bought food with. Spaghetti was the cheapest thing, it lasted the longest time, and you could eat it cold. I'd buy all the ingredients for the sauce: tomatoes, basil, garlic, etc., throw them in a pot, and was good to go.
What's your favorite medication?
I never smoked cigarettes, I never did hard drugs. But I love bee pollen capsules. I recommend it to anybody (who's not allergic to it, obviously).
What's hanging above your sofa?
A 1956 Godzilla poster. I have about 300 1950s sci-fi posters that are collectible and rare. And Godzilla, when I was little, was an import from Japan. I thought it was a very charming movie. Well, not at the time. I thought it was really scary at the time, but it was great.
How much is too much to spend on a haircut?
$100/$150. I have my own hairdresser come in and she also dyes my hair because it turned gray. [Laughs.]
When's bedtime?
Usually around 1:30 a.m.
Which do you prefer, the old Times Square or the new Times Square?
The old Times Square. It had a certain charm, and was the reality of the way New York was. Obviously we all know it was seedy and downtrodden in the seventies and early eighties, and I guess what happened had to be because it was getting worse. But as a young teenager I would go there to see the latest movies.
What do you think of Donald Trump?
He should stay out of politics.
What do you hate most about living in New York?
I don't hate anything about NYC. I would never live anywhere else.
Who is your mortal enemy?
Religious fanatics who try to impose their beliefs on other people. Respect what I believe in and I'll respect what you believe in.
When's the last time you drove a car?
Yesterday. I've always been into cars — I built models when I was a little boy, and I guess it continued. Driving in New York can be a little grating on nerves, but you get used to it. You just gotta chill out, you know?
How has the Wall Street crash affected you?
It didn't affect me.
Times, Post, or Daily News?
Times. They've proven themselves.
Where do you go to be alone?
The bathroom. And driving in my car.
What makes someone a New Yorker?
People who understand and appreciate the diversity and culture of our great city.