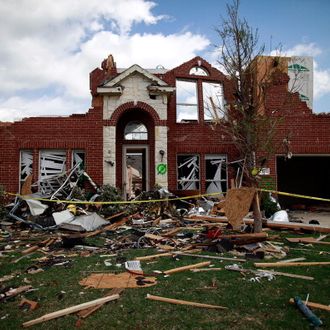 What officials are currently calling a possible tornado hit north Texas Wednesday night, CNN reports.  At least 100 people are believed injured in Hood, Tarrant, Dallas, and Parker counties, with "several" killed so far, according to MedStar Mobile Healthcare. While the National Weather Service warned earlier in the evening that a mile-wide tornado had been spotted shifting its track and heading for a town called Cleburne, what's even more alarming is that the tornado touched down multiple times, bring baseball-sized hail with it.
Spokesman Matt Zavadsky explained, "With these types of tornadoes, they touch down; they lift up; they touch down. They tend to hopscotch." The urgency of the situation could even be felt in the evening's weather service alerts: "If you are in its path … take cover immediately to protect your life." Officials in Granbury are using school buses to evacuate neighborhoods, some of which have had houses completely flattened. There is no doubt we'll know more about the situation once daylight comes to the affected areas.
Update: At least six people have been confirmed killed in the Granbury area (one of the two heavily hit by Wednesday night's storm), as reported by the Dallas Morning News. At midnight, Sheriff Roger Deeds of Hood County added that at least 14 people were still unaccounted for. A massive emergency response was underway in the area overnight. The other major disaster area is currently Cleburne where Mayor Scott Cain mentioned that downed power lines are keeping emergency responders from getting some families out of their homes.